Esbunitconv pro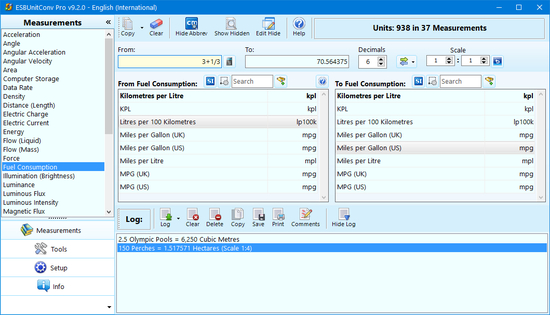 Download URL | Author URL | Software URL | Buy Now ($19)
ESBUnitConv Pro is an Enhanced user-friendly Windows Utility to easily convert between 938 units in 37 different measurement categories. Includes Units for Temperature, Distance, Mass, Area, Volume, Pressure, Velocity, Acceleration, Force, Energy, Power, Fuel Consumption, Flow, Torque, Angles, Time, Illumination, Luminous Intensity, Luminance, Luminous Flux, Density, Angular Velocity, Angular Acceleration, Computer Storage, Data Rates, Dynamic Viscosity, Kinematic Viscosity, Electric Charge, Electric Current, Magnetic Flux, Magnetic Flux Density, Quantities, Radiation Absorption, Radiation Dose, Radioactivity and Thermal Conductivity.

Includes the ability to log conversions, print, improved clipboard support, integrated help and much more. Also support for Exponential Notation in conversions and in the pop-up calculator. Special support included for SI Units, American Wire Gauge Table, Circle Calculations and Sphere Calculations. Also includes the ability to hide units if you don't
Related software (5)

ABF Value Converter is an application for measurement units conversion. This software easily converts various measurement values into any other possible ones. Inches to centimetres ...

Dicom is the first ever unit aware calculator of its kind that deals with dimensions of physical quantities in mathematical expression. Dicom enables calculations, conversions, and ...

Easy Unit Converter converts temperature, length, area, volume, weight with a single button click. Easy Unit Converter includes about 50 most frequently used measurement units. Thi ...

Physics Cheat Sheet is an interactive physics package that helps students solve and visualize numerous physics equations.
Furniture removalist utility. Calculate item quantities to cubic metres and cubic feet. Used to calculate load area required in furniture removal truck pan or shipping container. A ...