Editpad pro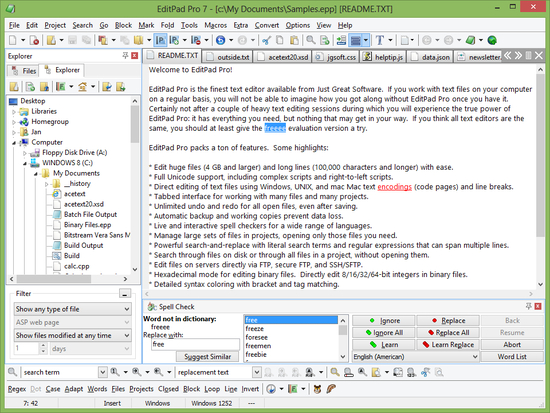 Download URL | Author URL | Software URL | Buy Now ($49.95)
EditPad Pro is a powerful and versatile text editor or word processor, designed to make text editing as convenient as possible. Write and edit all your plain text files such as source code, scripts, web sites, logs, letters, memos, reports, articles, etc.

Edit text documents more comfortably with EditPad Pro's tabbed layout, live spell checking, column editing, extensive clipboard and block editing abilities, project and file management, keystroke macros, word count and other statistics, text wrapping and unwrapping, opening all files from certain folders, alphabetic sort, bookmarks, character map, etc. Supports all languages, including Far East languages.

Write source code more easily with EditPad Pro's syntax coloring, file navigation, code folding, search and replace with regular expressions, running external applications or scripts, persistent and rectangular selections, hexadecimal mode, integrated diff to clearly compare files, built-in FTP, auto and block indent, line number
Related software (5)

DzSoft WebPad is a simple and extensible HTML editor with PHP and JavaScrip syntax highlighting. Features one-click preview in built-in browser, the HTML Tidy tool from the World W ...

Make changes to the data found within an Oracle table.

A powerful, language generic IDE. Features include Brief, Epsilon, Emacs support, project workspace file management, intellisensing, auto-completion, class browsing, code folding, ...

EditPad Lite is a convenient, carefully designed text editor and Notepad replacement. It has all the features a solid text editor needs without any bloat. Tabbed interface for op ...

A leading-edge, award-winning text and HTML editor. Handle huge files with ease, convert text to HTML, build document templates and take charge of your code. Fully extensible, with ...