Easy gif animator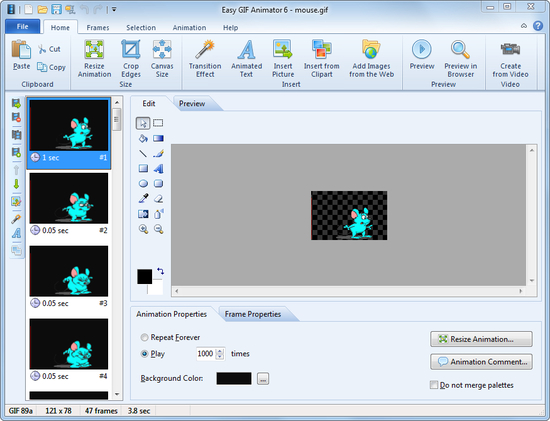 Download URL | Author URL | Software URL | Buy Now ($29.65)
Easy GIF Animator is powerful yet very easy to use software for creating and editing animated GIF images. With this animated GIF editor you can easily create animated pictures, banners and buttons in no time. You can use special features to add stunning visual effects and prepare your animation for publishing on your web page. Easy GIF Animator supports all types of GIF animation and provides high compression and great quality for your animated GIF images. To top it all off, Easy GIF Animator is the best priced animated GIF editor on the market today.

With Easy GIF Animator You Can:
* Easily create animated banners, pictures and buttons
* Create animated GIF images from scratch
* Edit and modify animated GIF images
* Convert video to GIF animation
* Add visual effects to your GIF animation
* Add sparkle effect to any image
* Create moving text effects
* Optimize animated GIF images so they take less space and load faster
* Preview GIF animation in web browser
* Manage animation frames
Related software (5)

Convert Flash SWF to AVI, SWF to DVD, SWF to VCD / SVCD, SWF to MPEG, SWF to Animated GIF files including movie clips, action scripts and audio in the Flash movies. No skip frames, ...

A powerful tool for creating animated GIF images, banners, buttons, and even movies. Built-in image editor, palette optimization, image size reduction, and multi-language support a ...

Pro Motion is a bitmap editor and animation package, ideal for creating pixel precise animations, images or icons used in games, Flash/GIF applications especially for handheld syst ...

The easiest and pleasant way to work with animated GIF images.

ASP Component to create and edit animated GIFs. Read GIFs from disk or data stream, save to disk or export to the browser. Draw text and simple shapes. Resize, rotate, crop, flip. ...