Digimode selected games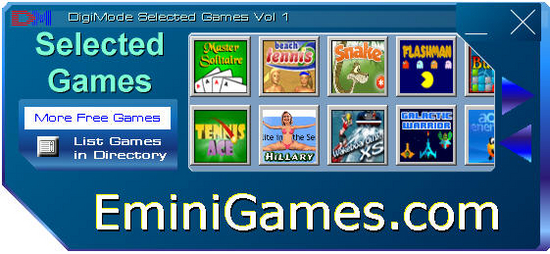 Download URL | Author URL | Software URL
A Flash game machine with 30 games built in and two ways to add hundreds of your own flash games, Automatic Mp3 Player plus 30 of the hottest Flash games we could find for you after a long search organized in genius way and it all can be resized to suite your moods. You can easily integrate your own flash games into the program. This is not a demo of any form, but fully functional final release The following games are Built in: Master Solitaire, Beach tennis, Snake, Flashman, Rural racer, Cube buster, Smashing, Tennis Ace, Hillary, Wakeboarding XS, Galactic warrior, Aqua energizer, Battlships, Bug on a wire, Bunch, Bush aerobics, CCanion glider, Crash down, Cyper mice, Dancing Bush, Detonator, Field challenger, Magic balls, Mission mars, Stress relief paintball, Space fiter, Stan skates, United we dance, plus two way to add hundreds of your own swf and flash games to the machine
Related software (5)

Comprehensive online game collection with no signup process or complicated steps to get started...just a simple way to play games online for free! Action, adventure, arcade, sports ...

Piramidka (Pyramid in Polish) is a very fun to play solitaire-like game based on a classical board game with the same name. It doesn't have big requirements so it can be played on ...

Find and destory enemeis command center - big red heilcopter and all enemies objects and helicopters. Capture clouds to get bonuses, capture piltos to icnrease point or kill them. ...

Play Flash movies, Flash Videos and Flash Projectors. Control Playback. Find the movie you need with Thumbnails powered Media Browser. Go Full Screen with all controls still availa ...

This is a game full of money and rocks. Usually the rocks are on top of the money, and you have to figure out how to get the money you need to get to the next level without getting ...