Database oasis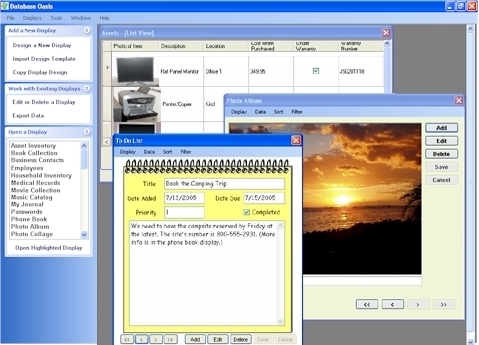 Download URL | Author URL | Software URL | Buy Now ($119.99)
Database Oasis enables ordinary people with no programming experience to design their own software to exactly fit their needs and personality. Go from a blank page to having an application that is completely customized to you in just a few minutes. Use point and click to build your page; just select the types of data you would like to display, where and how you would like it to appear, and you're done. It's that easy. Database Oasis gives you access to all of your data in one easy to use list. This gives you the convenience of having one central hub for all your information. Whether you need to store your company's sales history or your children's medical records, you're covered. And because you design the screens, you can rest easy knowing that information will be handled exactly how you want it to be handled.
Related software (5)

Argentum Coolbase is a versatile information manager that can keep any kind of information, such as text, numbers, links, pictures and music, in a tree-like database. It can serve ...

With this program & Corel DRAW you can print anything with serial numbers. Serial numbers will be replaced automatically.

NoProb Backup is a free data backup utility used to create a backup of all your valuable information. Once you create a backup, simply transfer it onto an external device, such as ...

Stamp Mate is an advanced stamp collecting manager for managing your own stamp collection. It is using automatic data import from Colnect's online database, which saves you a lot o ...
Software USB port sniffer, USB protocol analyzer and data logger. This Universal Serial Bus monitoring utility can spy, capture, view, log, analyze, test usb device activity perfor ...