Daboo dbisam maintenance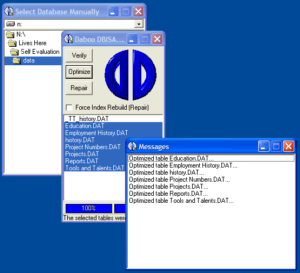 Download URL | Author URL | Software URL
Database Maintenance is usually the last thing on most people's mind, until something goes wrong and the
database becomes corrupt. Some common reasons for database corruption are power failure and improper
shutdown of an application. Daboo DBISAM Maintenance 4 was designed to repair corrupt DBISAM version 4.00
tables. It has the ability to verify and to optimize tables as well. The interface is very easy to use, and the source
code is available at dienhart.com. For those still using DBISAM 3 tables, Daboo DBISAM Maintenance 3 is also
available for download at dienhart.com.
Related software (5)

New Logic to Monitor All types of Application(16bit,32bit,64bit), Servie, Driver and watch every thing about exe file events(Creating , Changeing , Renaming , Deleting) and Release ...

Has your PC slowed down lately? Have you ever felt irritated and annoyed while sitting in front of your slow Computer, impatiently staring at the screen? If you recognize any of th ...

ACDR (Audio Compact Disc Reader) is a very easy to use, yet fully featured tool, that lets you read tracks from audio CD's. Supports: Lots of output file formats, freedb, ReplayGai ...

Mihov ASCII Master is a simple but useful utility that shows you ASCII value of the key pressed - both in decimal and hex! Great for software developers!

RGB Editor is a small utility useful for selecting and creating RGB colors for graphics projects. The values of the red, green and blue components are displayed and easily transfer ...