Crypto++ sdk 2007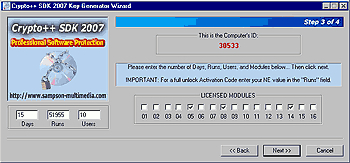 Download URL | Author URL | Software URL | Buy Now ($497)
WARNING: Don't Buy Any Software Protection Product Until You Have Tried For FREE The New Award Winning, Quick, Easy, and Affordable,"Crypto++ SDK 2007" Professional Software Protection System - Risk-Free!
Related software (5)

Free and powerful Software manager. You can organize your software collection (registration information: reg-name, reg-code, developer info; links: download, update; screenshots an ...

SDProtector is a powerful tool offering both software developers and distributors a protection of software products against unauthorized copying, use and distribution.With SDProtec ...

Private exe Protector (PEP) is a professional software copy protection and license management. PEP works with traditional methods, such as file compression, code fragment encryptio ...

PC Guard is a professional software protection and licensing system. Easily protect 32bit/64bit Windows and Microsoft .NET framework (.NET versions) applications from illegal distr ...

Code written in Java is compiled into bytecode language. Jfuscator protects your intellectual property by making it extremely difficult to reverse engineer Java applications.