Cresotech pocketpoint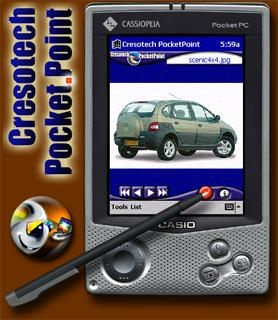 Download URL | Author URL | Software URL | Buy Now ($22)
CRESOTECH POCKETPOINT is an easy PDA based multimedia tool to create photo presentations or review photo albums simply and quickly. You don't need any special skills or experience to use it, and your photo gallery will be always at your disposal in your pocket! Arrange the slide show of your photos made during last vacation, create the commercial presentation of your company or your products - even a child is able to easily do it with Cresotech PocketPoint. All you need to do is select the necessary images for Playlist, and... That's all! Just press Start Presentation button and enjoy the great show! If you are sales manager promoting the goods of your company on the market, Cresotech PocketPoint is optimal solution for you. It allows you to have all your ads ready in your pocket and hold a presentation anytime anywhere. If you are collector, Cresotech PocketPoint provides you with option to show your collection to friends or colleagues avoiding the unnecessary risk taking the physical
Related software (5)

ABF Slide Show Screen Saver is a screen saver with cool looking effects and abilities to show pictures ether from local folders or from the web.

A software package that allows you to create, store and replay multimedia collections. Do you need to make a virtual storybook of your family? To collect professional presentations ...

A software package that allows you to replay multimedia collections created by Editor version of Cresotech Hotpancake. Comes with original collections of images, music and other in ...

Put your photos into the separate folders and... That's all! Press the Start Presentation and enjoy the powerful image show. Change the software style for your own taste. Create a ...

Synchronize clock on your Desktop PC or Notebook, using time server available on TCP/IP networks such as the Internet or LAN. It can work as client or server. The protocol currentl ...