Comprexx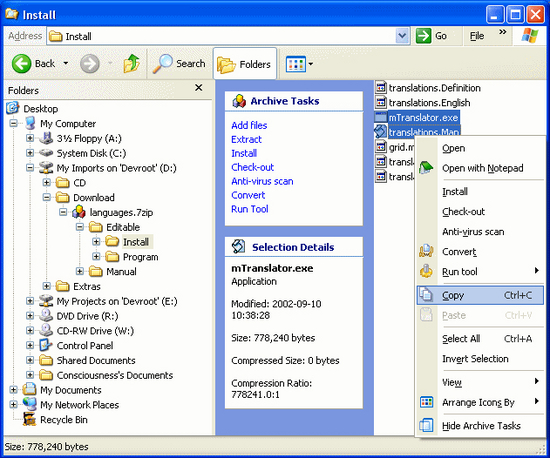 Download URL | Author URL | Software URL | Buy Now ($29.95)
Archives Behave Like Folders in Explorer!
Browse, copy files from, and add files to archives just like any regular folder. Drag and drop, copy and paste files to and from the archive folders. Perform all archive tasks without ever leaving Explorer, including converting archive types from one to another.

Right-Click Explorer Extensions!
Create any archive type from the 28 available with a single right click. Create (and email) multiple archives of different types. Extract multiple archives with a single right click. Drag and drop files onto archives to add them to the archive.

Codex Plug-In Technology!
The plug-in based product ships with 10 plug-ins that have full support for 28 and extract support for 47 archive types. Adding support for new archive types is as easy as installing their plug-ins.

Stand Alone Archive Applications!
The product also contains 4 stand-alone archive applications - command line, wizards, WinZip style, and a professional archive studio, so you can work in
Related software (5)

ZipScan searches archive files. It can search Zip, CAB, RAR, ACE, InstallShield CAB, JAR, TAR, GZIP and OpenOffice files, including password-protected, nested and self-extracting a ...

File manager, easy to use, full customized, tabbed interface, fast FTP client, multirenamer, internal packers, internal viewers, burn on CD/DVD, internal text and HEX editors, sync ...

Catalog whole disks or only single directories with familiar Explorer-like user interface and makes it available for offline browsing and searching. Multilingual.

EF Find is a powerful search program. Look for files, text, HEX sequences and regular expressions inside 7-Zip, ACE, ARC, ARJ, BZIP2, CAB, CPIO, GZIP, IMG, ISO (ISO9660), LHA, RAR, ...

EF Duplicate Files Manager could find out duplicate files with same name, same size, same content on specify paths. Handle optional like folders the archive files. Multilingual. Sh ...