Chrispc win experience index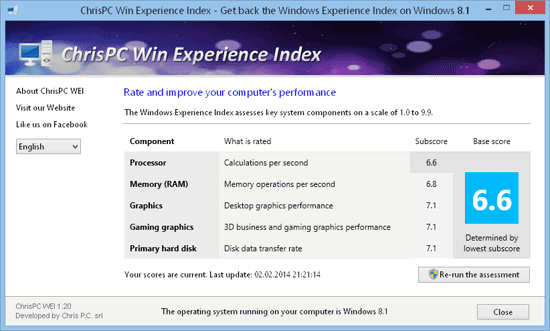 Download URL | Author URL | Software URL
ChrisPC Win Experience Index is the free tool that lets you rate your computer and check again the Windows Experience Index on your Windows 8.1 installation, giving you the possibility to view the CPU, RAM, HDD scores or re-run the Windows benchmark tests.
You wonder what gaming or graphical processing power unleashes your PC/Laptop hardware? Just get the Windows indexing scores calculated by Windows using ChrisPC Win Experience Index.

Get back Windows Experience Index on your Windows 10 and Windows 8.1 installation!

You want to have the latest Windows version 8.1 and also to be able to check your Windows Experience Index ?
From now on is quite simple, just install ChrisPC Win Experience Index software and you will get back the Windows interface that you are already familiar from Windows 7 and Windows 8.

Totally convenient, ChrisPC Win Experience Index runs on any Windows version on 32 or 64 bits, but aims to be used mainly for Windows 8.1.

ChrisPC Win Experience Index has many key
Related software (5)
Impressive space flight through the star field simulation screensaver. It has settings to simulate up to 30,000 stars, rotation, nonlinear flight course, interstellar gas clouds, ...

Typing speeds illustrates familiarity with computer. It simplifies your daily work, emails writing and increases your productivity.Save 30 min in writing 10 emails. Accordingly, th ...

Boost helps you gain back control of your PC by improving performance and stability with one click.

Quickly and easily switch 10 sets of mouse settings. This is ideal for laptop users that switch between using the touchpad and an external mouse, but want a different pointer speed ...

Chris-PC Game Booster tunes Windows to use the CPU more efficiently, gets the most of your graphics card GPU, improves the network connection usage of your PC and decreases reads a ...