Chop commute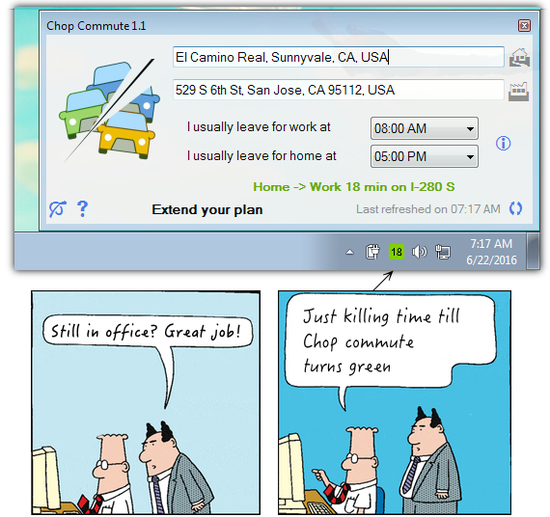 Download URL | Author URL | Software URL
Take the guess work out of your daily commute by seeing real-time traffic and drive times specific to your route right on your Windows System tray or Mac menu bar.
Beat the traffic - save time and money by leaving for work or home at the right time. No need to manually check the traffic on your phone to figure out the best time to get out of work - Chop commute does the work for you and always shows you the best time to start home (or work). Chop commute is like Google Now for laptops, only better since it is designed specifically to help you get home quicker.

Key features:

Live traffic info for almost all countries (using data from Google Maps)
Status icon displaying color coded commute information
Save time and money by leaving at the right time
Cross-platform support for Windows and macOS
Related software (5)

Periodically backup any set of files to a specified folder. Backups can occur every 5 minutes, 30 minutes, 1 hour, etc.

CadTempo is an automated time keeping solution for CAD documents - log time by each user for all drawings worked on. CadTempo logs all users that access the CAD document and tracks ...

Global Time Synchronizer is a versatile time keeping tool that has many features including the ability to modify the look of your standard desktop clock, an easy-to-use, convenient ...

Experience the thrilling sensation of incredible speed!

Handle the car carefully and avoid accidents!