Chain reaction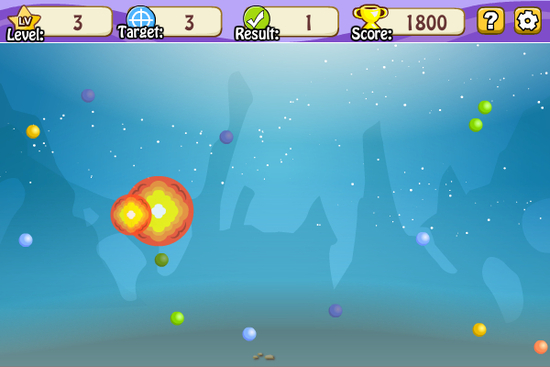 Download URL | Author URL | Software URL | Buy Now ($0)
The aim of this game is to blow up as many balls as possible. At the start of the game there will be some balls moving around. When you click at the screen, an explosion will occur at the point you clicked. When the explosion touches other balls, the balls will explode, which in turn will explode other balls in a chain reaction. Since you can click only once and the explosion will stay on the screen for only a short while, you need to plan your click carefully to try to explode as many balls as possible. If you reach the target balls to explode for a level, you will then be promoted to the next level, otherwise you lose the game and the game is over. As the game progresses, there will be more and more balls and it will be harder and harder to reach the target.
Related software (5)

Overload is an unique logic game for 1 or 2 players on setting off chains of explosions to capture all the opponents pieces. Game has original rules and interesting gameplay. You s ...

Perpetuum mobile highlights continually moving and rotating balls. Up to 500 balls jump in an area around. The ball movement can take place with gravity and impulsively. Hereby spe ...

Unleash your marble-blasting power to defeat your rival!

Prevent the marbles from falling into the hole!

Launch the fireworks to impress the crowd!