Cd/dvd diagnostic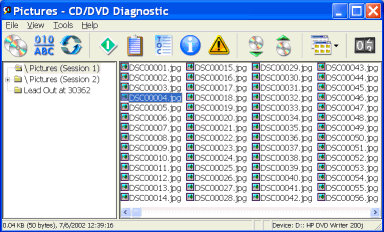 Download URL | Author URL | Software URL | Buy Now ($39.99)
Examines, analyzes and recovers data from CDs, DVDs and Blu-Ray (recordable) discs. Originally known as CD-R Diagnostic, this product has been helping users with optical media since 1997.

CD/DVD Diagnostic interfaces directly with CD, DVD and BD drives to bypass Windows and directly read the disc. If there are errors, the limited retries the drive provides are ignored and further retries are attempted. If there are serious errors which prevent data from being read, errors can be ignored to allows incorrect data to be saved which can, in some cases, allow files to be recovered even with damage to parts of them.

Supports all types of discs, regardless of content. CD/DVD Diagnostic examines discs, determines if there are problems and bypasses them. Will read Macintosh discs on Windows.
Related software (5)

BringBack offers easy to use, inexpensive, and highly successful data file recovery for Windows & Linux (ext2) operating systems and digital images stored on memory cards, hardware ...
Recover lost MP3, WMA, JPEG, PNG, GIF, AVI, MOV, WAV, MIDI and other multimedia files from a host of multimedia devices ranging from digital camcoders, digital still cameras, digit ...

Cross-platform SDK for easy implementation and ultra-fast integration of CD, DVD and Blu-ray disc backup and recording functions in a convenient framework. Packed with predefined t ...

A professional file recovery tool to find lost, deleted and formatted files, photos, audio and videos (inc High Def & Blu-Ray) on all drives. Analyze your drives for free.

Recover lost images from a host of multimedia devices ranging from digital cameras, PDAs and mobile phones to CD/DVD and PC Hard Drives. The program can recover a wide range of fil ...