Catapult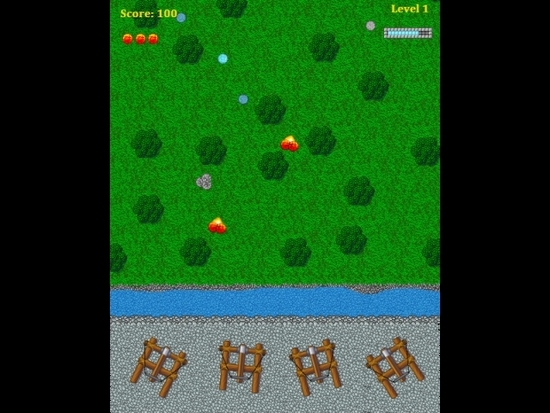 Download URL | Author URL | Software URL | Buy Now ($0)
A rain of meteors fell to Earth. Four catapults are being used to shoot down flying meteorites with exactly the same stones. Miss three and you lose. Rack up as many points as you can! Control: 1, 2, 3, 4 - fire catapults. Aim with the mouse.
A rain of meteors fell to Earth. Four catapults are being used to shoot down flying meteorites with exactly the same stones. Miss three and you lose. Rack up as many points as you can! Control: 1, 2, 3, 4 - fire catapults. Aim with the mouse.
A rain of meteors fell to Earth. Four catapults are being used to shoot down flying meteorites with exactly the same stones. Miss three and you lose. Rack up as many points as you can! Control: 1, 2, 3, 4 - fire catapults. Aim with the mouse.
A rain of meteors fell to Earth. Four catapults are being used to shoot down flying meteorites with exactly the same stones. Miss three and you lose. Rack up as many points as you can! Control: 1, 2, 3, 4 - fire catapults. Aim with the mouse.
A rain of meteors fell to Ea
Related software (5)

PDF Multitool (FREEWARE) includes set of functions to extract data and text from PDF files: PDF To XML, PDF To CSV, PDF To Text, reading text from scanned PDF using OCR, search tex ...

Meteor Destroyer is an arcade game in which you have to destroy meteorites that are getting in the way of a space project. To do this, you have to choose the correct missile trajec ...

Evil does not sleep. The fight rages on as the fires burn... The forces of evil closed in to conquer the land. People were not able to withstand the onslaught of demons and were de ...

FlyingRock is a top view fencing arcade game in which the player with the mouse controls the movement of weapons. It is a spiritual successor of Hammerfight, but with a different a ...

The game begins far in the future, in the 3,000s, by which time all of humanity was destroyed by machines. But wait, there is one last hero of humanity, and it's time to put an end ...