Case studio 2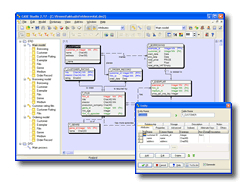 Download URL | Author URL | Software URL | Buy Now ($369)
CASE Studio 2 is a highly professional and customizable database modeling tool that allows database designers and developers to visualy create and maintain Entity Relationship Diagrams (ERD) and Data Flow Diagrams (DFD) and generate SQL scripts for various databases automatically. It provides a full support for more than 20 databases, e. g. Oracle, DB2, MS SQL, Sybase, MySQL, Firebird, PostgreSQL etc. CASE Studio 2 main features: Entity relationship diagrams Automatic generation of SQL (DDL) scripts Reverse engineering Generation of detailed HTML and RTF documentation Data Flow Diagrams Export into XML format Version manager, Templates editor...and more.

The new version 2.23.1 brings major enhancements to: Informix 10, Oracle 9i / 10g, MS SQL 2005 / 2000, DB2 version 8, PostgreSQL 8.1 / 8.0 , HTML/RTF reports. To see how CASE Studio 2 works, feel free to download the instructional movies: http://www.casestudio.com/enu/dmovies.aspx
Related software (5)

Data Monkey GDH is an ETL / Database Administration application that works with all your datasources.Whether you use Oracle, mySQL, DB2, SQL Server or Access; Data Monkey will enab ...

DB Solo is a database development and management tool for developers and admins allowing users to explore and manage database objects as well as execute their own ad-hoc queries. S ...

Make changes to the data found within an Oracle table.

The Query Tool is a powerful data mining application. It allows you to perform data analysis on any SQL database. It has been developed predominately for the non technical user.

Web Chart Creator is your tool for fast creation of dynamic 3D charts for the Internet/Intranet projects using databases of any type.