Camtech context tools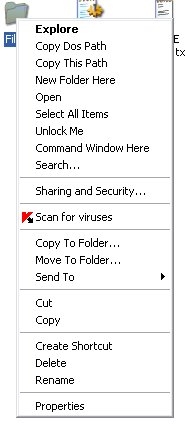 Download URL | Author URL | Software URL
Camtech Context Tools is a collection of useful tools added to Windows Explorer context menu used by Camtech on a daily basis. This adds 2 new items to the 2 existing ones. Choosing "Custom" during the install let's you specify which ones you want to add or "Typical" adds them all. Items can also be added or removed at any time by choosing choosing "Uninstall or Modify" from the Camtech/Camtech Context Tools Programs menu.

Items Camtech Context Tools Adds:

Copy This Path
Copies Windows file or folder path to the clipboard
(C:\Program Files\Camtech\Spyware Inoculator\SpywareInoculator.exe)

Copy Dos Path
Copies Dos file or folder path to the clipboard
(C:\Progra~1\Camtech\Spywar~1\Spywar~1.e xe)

New Folder Here
Creates a New Folder anywhere with one click

Select All Items
Select all Files and/or Folders in a Directory


Related software (5)

Make changes to the data found within an Oracle table.

Transfer tables from Paradox to Oracle databases. This program is designed for Paradox 5 databases. Higher versions of Paradox databases can be saved as 5 and used with this progra ...

Log changes when files are copied, created, deleted, modified or renamed in specified folders.

Automatically copy selected content and paste using a mouse button! Features like automatic window switching, AutoSave and automatic pasting automate the process even further. Auto ...

A FREE utility for moving, copying, renaming and deleting files and folders with Very Long Paths, i.e. paths longer than the Windows API can handle (MAX_PATH: 259 actual characters ...