Binaryclock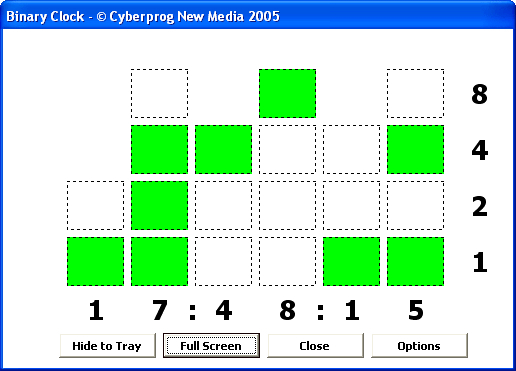 Download URL | Author URL | Software URL
I was given an ThinkGeek Binary clock at christmas, and it was nice, and fun, but lacked the important things from my point of view that you need to be able to learn how the clock is telling the time easily. So I created this software Binary Clock!
Related software (5)

TimeTools NTP digital clock software is a freeware utility that runs on any Windows 95/98/NT/2000/XP/2003 workstation or server. It allows a client to synchronise time to a selecte ...
This amazing screensaver offers you a magnificent scene of the very beginning of the last century.

The ultimate employee time clock. Easy to use, looks like a traditional mechanical time clock. Easy Email. Job, Phase, Production tracking. Automatic lunch deduct. Fingerprint scan ...

A clock for your desktop that counts down the days, hours, minutes and seconds until the weekend. Fully configurable, with sound. Run this on your desktop and you'll always know ...

Dozenal Clock - is a Sidebar gadget that will show current time in duodecimal system.