Battle rings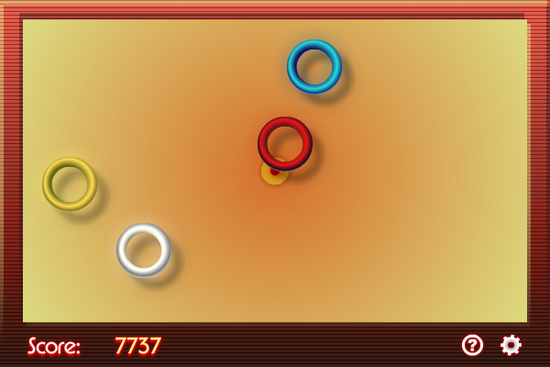 Download URL | Author URL | Software URL | Buy Now ($0)
Race against three opponents and be the one who stands right next to the target! In this game, your goal is to control the red ring so that it gets closest to the center of the play area. Before each round starts, 4 rings of red, yellow, blue and white colors will stay at the four corners of the play area. You will be given 10 seconds to modify the settings of the red ring. Move your mouse to change the shooting direction, and hover the mouse over the arrow-shaped gauge to adjust the power. When the preparation time is up, all of the rings will be released simultaneously and compete for the nearest spot to the center. If a ring bumps into its rivals, it will be bounced away. When all rings are settled, each of the ring's distance to the center will be shown, and you can receive points based on the result of the red ring. The game continues until all 5 rounds are completed. Can you beat your competitors in each and every round? Step into the fiery battle rings now!
Related software (5)

Be the first to fly all your planes to the destination!

Demonstrate your incredible shooting skills to pop all balloons!

Race against the computer and find the shortest route!

Combine and collect the bright stars from above!

Take the discs down on the energetic beach!