Batch rename specialist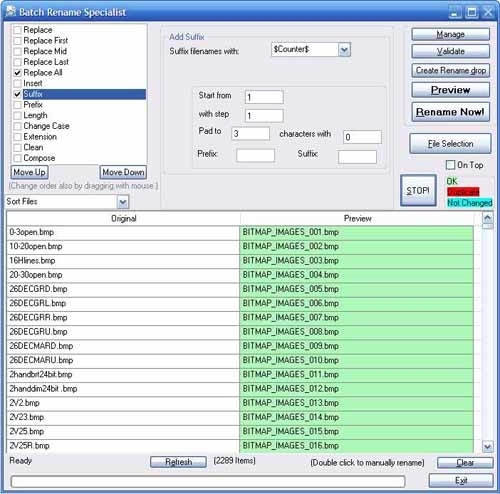 Download URL | Author URL | Software URL | Buy Now ($24.95)
How often you feel that your pictures be named differently from the mechanical names IMAGE_001.jpg, IMAGE_002.jpg...? How often you feel that the names of your personal/official files and folder be a little more descriptive, or there may be times when you just want to rename a bunch of files or folders for housekeping / other reasons.

Batch Rename Specialist, as the name suggests is here to help you rename a number of files and folders in a lot of different ways. There are many rename operations that can be performed on a file name: Replacing Strings, Suffixing, Prefixing, Inserting Strings, Changing File Length, Changing Case, Changing Extension, Cleaning Filenames of unwanted characters and composing a filename from scratch. The order of all these operations can be changed, giving you different results. A preview of new file names can be viewed in the Preview pane before actual re-naming. New file names can be pre-validated to remove any duplicates.

Batch Rename Specialist features
Related software (5)

Hex editor, disk editor, and RAM Editor with a lot of features: Concatenating, splitting, unifying, analyzing, and comparing files, flexible search and replace functions, Data Inte ...

EditPad Lite is a convenient, carefully designed text editor and Notepad replacement. It has all the features a solid text editor needs without any bloat. Tabbed interface for op ...

Easily edit and analyze binary files of any size. Synalyze It! features enhanced support for many character encodings and it will allow you to interactively define grammars for var ...

Text editing software which can insert, delete, edit, extract, and manipulate your text data quickly to save time and get results.

Tag Editor is handy spreadsheet for quick and easy ID3 tagging on MAC OS X. It allows load tags and artworks from network and paths, rename files for entire music collection in one ...