Baregrep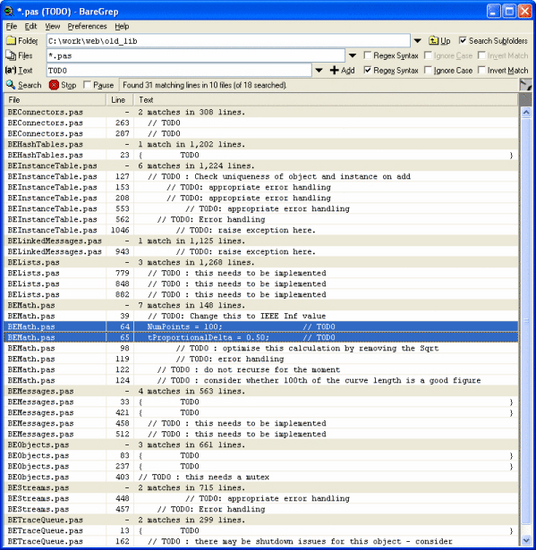 Download URL | Author URL | Software URL | Buy Now ($0)
A free file finding and text searching tool: * Regular expression text search * High performance search algorithm * Wildcard and regular expression file search * Recursive directory search * Save, name and manage text search patterns * Interactive, incremental search * Extract data with capturing groups * Tabular presentation of search results * Export/copy search results in many formats * Search files of any size (> 2GB) * Many file formats (Win32, Unix, Microsoft IIS logs) * Flexible configuration options and storage * Single small executable, no installer
Related software (5)

A file finding and text searching tool: * Regular expression text search * High performance search algorithm * Wildcard and regular expression file search * Recursive directory sea ...

Make changes to the data found within an Oracle table.

This software can help you to replace/find/extract strings in your files,or rename these files.You can use regular expression,and very long or mutil-line expression;You can hilight ...

Easy to use application that allows you to search multiple files simultaneously using powerful regular expressions. You can specify expressions representing complex patterns that s ...

Searches/replaces text content in the file system. It gives you powerful control on where and how to search. Replacements will be executed only if you decide to do so. Any single r ...