Balloon journey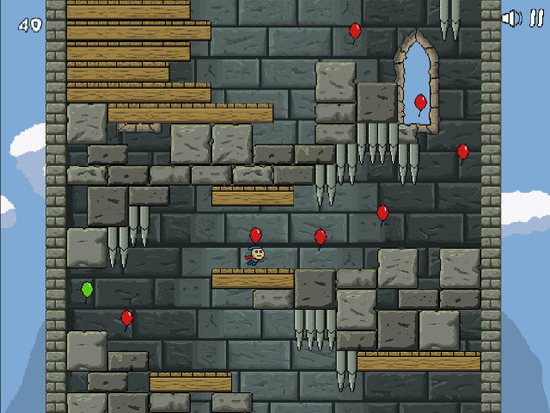 Download URL | Author URL | Software URL | Buy Now ($0)
Funny little game where you collect balloons to escape from a tower. Features pixel art graphics and 20 different levels. Day & nighttime environments have unique enemies. 8 bonus levels with 2 different styles. Not as easy as it sounds!
Funny little game where you collect balloons to escape from a tower. Features pixel art graphics and 20 different levels. Day & nighttime environments have unique enemies. 8 bonus levels with 2 different styles. Not as easy as it sounds!
Funny little game where you collect balloons to escape from a tower. Features pixel art graphics and 20 different levels. Day & nighttime environments have unique enemies. 8 bonus levels with 2 different styles. Not as easy as it sounds!
Funny little game where you collect balloons to escape from a tower. Features pixel art graphics and 20 different levels. Day & nighttime environments have unique enemies. 8 bonus levels with 2 different styles. Not as easy as it sounds!
Funny little game where you collect balloons to
Related software (5)

If you passionately adore speed and cars, and most of all dream about tearing around in a large and powerful jeep, this game was made for you. First locate the finish line on the m ...

Hummer - the legendary US Army 4 X 4. The combination of modern technology and uncompromising force makes it the best fighting machine in the world. No wonder it is called the "Ame ...

Help the little alien get to the ship and fly home! Beware of traps and remember to eat carrots in the cloud.

Press to flutter clumsy birds and see how far you can fly! Help awkward birds get home and try not to fall into the tube along the way!

After sun goes down, street racers come to streets of the city. They are racing each other, taking part in illegal tournaments. Can you beat all racers and become the best Street R ...