Automationspy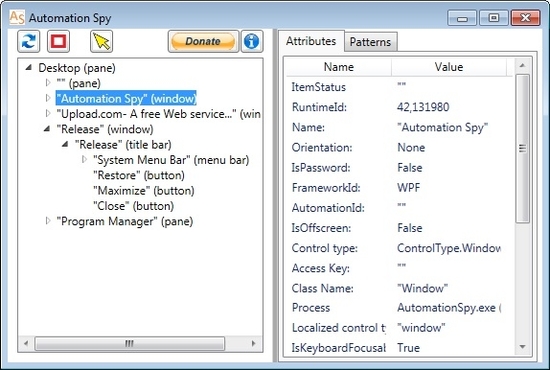 Download URL | Author URL | Software URL
Simple, easy-to-use spy tool for inspecting properties of UI Automation elements on your desktop. This program has intuitive buttons that you can work with. You can navigate through MS UI Automation ierarchy and query for elements properties. You can directly navigate to an element using the mouse pointer. This can be a useful tool if you are developing software using .NET and Microsoft UI Automation technology. The tree with elements are in the left side and the properties are in the right side of the application window.
Related software (5)

With Colour Spy you can easily pick the exact RGB Hex Colour Code from any window of the screen and place it on clipboard to access from any HTML or graphics editor !

This ActiveX allows you manipulate with INI-file by the easiest way from any programming language. The INI-File Manager ActiveX can be used from VB, VBA, VB.NET, VC++, VC.NET, VBSc ...

Continuously monitors a folder for any new files, then triggers a custom action, such as running a second program with the new files. Files can be inserted on the command line or s ...

An enhanced data provider for SQL Server-based database applications development that offers both high performance native connectivity to the SQL Server database and a number of in ...

UniDirect .NET offers universal access to the data of databases for the Microsoft .NET Framework. It supports most of major database servers, including Microsoft SQL Server, Micros ...