Automatic photo organizer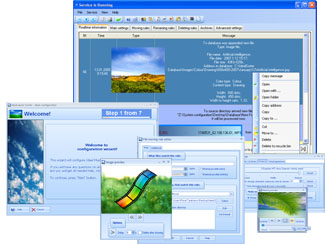 Download URL | Author URL | Software URL | Buy Now ($39.95)
Organize All your photos automatically with Automatic Photo Organizer. This digital photos organizer will organize, sort and rename all your photos automatically, even if you want to organize thousands of photos and they are packed in archives.
Variety of supported photo organizing methods + variety of organized photo formats (more than 867) + variety of EXIF / IPTC / XMP / FlashPix tags, using which photos are organized (more than 9872) + organize photos anywhere, even inside of ZIP and RAR archives + easy to organize photos with step-by-step wizard = that is what Automatic Photo Organizer is.

Key Features:
* Organize photos (automatically) -
(automatically organize all your photos, even packed in ZIP and RAR archives);

* Organize photos easily -
(with automatically shown step-by-step wizard);

* Organize photos directly as you want -
(select one of popular photo organize methods: by photo creation date, camera model, image size, photo content, etc. or easily specify your o
Related software (5)

Full-featured batch image, graphics, and photo editing and converter software for 140+ formats (JPG, JPEG2000, PDF, etc). Complete command-line operation and an entire arsenal of e ...
Ideal MP3 Music Sorter - will Sort, Organize and Rename all your Music files, fast and easy. Support variety of music formats: MP3,OGG,WMA,AC3,AAC,WAV and HUNDREDS other media form ...

MP3 Music Sorter, Organizer, Renamer - Full Automatic, that will sort, organize, rename all your music, fast and easy. Support MP3, AVI, DIVX, OGG, MPEG, JPG, ZIP, RAR and HUNDREDS ...

Sort Photos easily with Photo Sorter Pro. This powerful photo sorter will sort, organize and rename all your photos, fast and easy. Want your photo collection to be in ideal order? ...

Sort Photos easily with PhotoSorter. With this Photo Sorter all your photos will be sorted, photos will be organized and renamed automatically. More info and Free Download at Photo ...