Audio dj studio for .net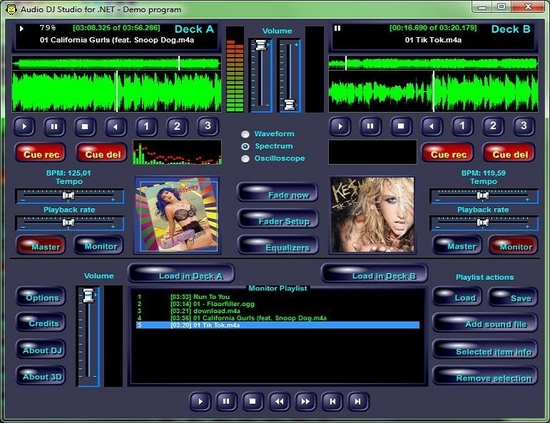 Download URL | Author URL | Software URL | Buy Now ($399)
Audio DJ Studio for .NET is a .NET component that adds audio/video playback and mixing capabilities to multimedia applications.

Summary of available features:

- Playback of several audio formats through DirectSound, ASIO and WASAPI
- Playback of video clips whose DirectShow compatible codec is installed inside the target system
- Playback of files stored on an Internet server
- Playback of Internet radios
- Possibility to change the player volume and the sound card volumes.
- Multi-player
- Real-time embedded visual feedbacks (VU-Meter, Oscilloscope, Spectrum, Waveform display)
- Support for reverse playback of audio tracks
- Sound card output choice and speakers assignment
- Playlists support
- CDDB database queries
- CD cover pictures retrieval
- Load sound files from memory
- Export loaded sound to WAV format (on both disk file or memory buffer)
- Automatic Fader
- Pre-amplifier
- Advanced equalizer and auto-equalization of audio tracks through formatted XML files
- BP
Related software (5)
MIDI to MP3 Converter for Mac OSX allows easily and quickly convert batches of .mid files to MP3, WAV, FLAC, AIFF, M4A/MP4 and enjoy the perfect sound. Inbuilt volume adjuster and ...

Improve volume of entire MP3 collections on your Mac in one click. Just drop files and folders in the Normalizer and enjoy adjusted sound without silence, but with fade-in and fade ...

ActiveX control that adds audio/video playback, mixing capabilities and playlists management to DJs applications. Can perform separate control over Volume, Pitch and Equalizer valu ...

.NET native component that adds sounds recording, sound analysis and CD ripping to DJ and multimedia applications. Supports recording/encoding in several audio formats

.NET Winform component that adds sound waveform analysis to multimedia applications. Supports real-time waveform scrolling during playback performed through a third-party multimedi ...