Auction data retriever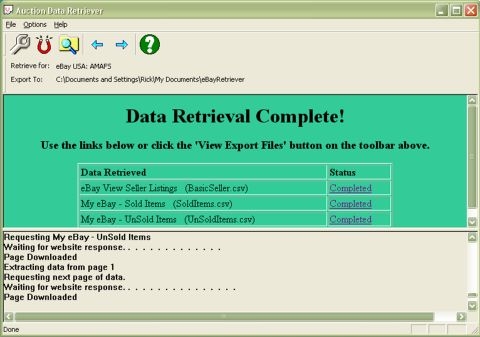 Download URL | Author URL | Software URL | Buy Now ($24.95)
Auction Data Retriever copies auction data from eBay web pages to files readable by most spreadsheets, databases, and accounting packages. Import your auction listings into Microsoft Excel or Microsoft Access. Import purchases and non-winning bids into your accounting package or spreadsheet. Use Auction Data Retriever to quickly import all your auction data into your own auction management system.

Features

1) Obtains auction data directly from eBay web pages.
2) Creates CSV files, Tab delimited files, and Fixed Record Length files.
3) Columns in export files match columns in My eBay. You can add or move columns in My eBay to change file layout.
4) You do not need to enter your information multiple times. The program retains settings from one use to the next.
5) Use this program on eBay international sites - Currencies and dates will be formatted the same as on eBay web pages.
Related software (5)

The AuctionNavigator is Bidding, Sniping program for buyers and sellers at the eBay auction that helps them win by bidding during the last seconds. Sniping is the art of placing la ...

A bundle of tips to help you get started on the right foot with eBay. By learning and following these tactics and strategies, you will learn what 90% of eBay users will never know ...

Auction Defender eBay Sniper tracks eBay auctions and bids seconds before they close, to give you the best chance of winning at the lowest possible price. Free version is limited t ...

BayGenie ebay Auction Sniper tracks eBay auctions and places bids in the last seconds of auctions. Features: build-in browser * bidding groups * 16 ebay global sites * all time zon ...

Convert .QIF files from your bank, credit card, or brokerage firm to .OFX files. Instant, One-Step Conversions. Straightforward Interface. Worldwide Functionality. Advanced Secur ...