Astroccult feng shui kua fortune teller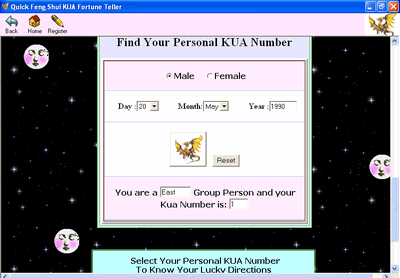 Download URL | Author URL | Software URL | Buy Now ($0)
Astroccult Feng Shui KUA Fortune Teller by AstrOccult.net is a 100% free handy software tool to calculate instantly Feng Shui KUA number. The software also suggests powerful 200 feng shui tips, remedies & enhancements based on one's personal kua number. The Kua number is an integral part of 8 Mansions Feng Shui. It is calculated using one's date of birth and gender. According to Feng Shui, each person has 4 good directions and 4 bad directions which are based on one's Kua number. Using your lucky feng shui directions in most situations help you attract the feng shui energy which is most beneficial for you. The knowledge of your KUA number and lucky directions can help you achieve success and happiness in your life. The software explains how to judiciously use this knowledge to your advantage & make yourself wealthy, healthy & happy.

The key features of Astroccult Feng Shui KUA Fortune Teller include :

Instant calculation of KUA number and group.
More than 200 fen
Related software (5)

Family Organizer is unique software that allows: keep database of your relatives and friends, show your genealogy tree, creates family's photo album, get astrology and numerology i ...

MB Free Divination Dictionary Software is the largest esoteric dictionary online. This software is an easy reference of words and definitions related to Astrology, Tarot, Runes, Ps ...

100% free software to calculate accurately Chaughadia Muhurtas. In Vedic Astrology, Chaughadia Muhurtas are an effective method to find out the intra-day auspicious times to start ...

qNumerologist is a 100% free handy numerology advisor that instantly generates a numerology forecast report on personality, health, lucky items like lucky days, months, gemstones, ...

Astroccult Rahu Kalam Calculator is a software tool to calulate accurately Rahu Kalam (Rahu Kaal), YamaGandam and Gulika Kalam. In Indian Astrology, Rahu Kalam, YamaGandam and Guli ...