Aquarium sand depth calculator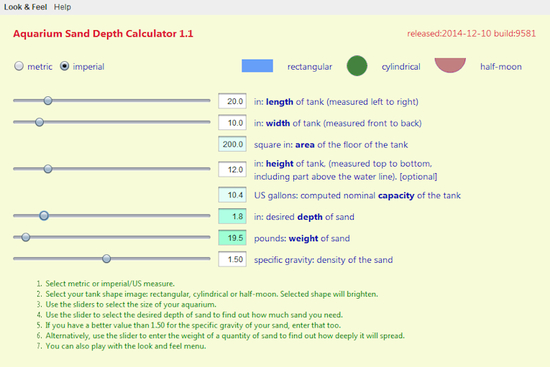 Download URL | Author URL | Software URL | Buy Now ($0)
SandDepth calculates weight of sand needed for an aquarium to achieved a
desired depth.

You tell it the size of your aquarium by adjusting sliders and the desired
depth of sand.

It then calculates how much sand you need. It works in metric or imperial
US measure.

You can also calculate how deep a given weight of sand sand will spread in
your aquarium.

As a side effect, it calculates how many US gallons/liters your tank
holds.

You can run it either as an Applet on the web, or as a desktop utility.
So you can add it to your aquarium website as a service to your visitors.

The logo is a pile of fine quartz sand. It may not be obvious at a small size.
Related software (5)

Underwater life is full of excitement and danger. Tropical fish hurrying on thier business, gold fish hiding from sharp-toothed sharks, baby seals playing joyfully, etc. Put this e ...

This aquarium screensaver offers you a small virtual school of Siamese Tiger Fish, which are also called Black Barred Tiger Fish, Yellow Dats, Gold Dats, or Datnoids. For many year ...

Decorate your desktop with a virtual school of Neon Tetras. Neon Tetras are extremely popular aquarium fish. A shoal of brightly decorated Neon Tetras will add color as well as act ...
Decorate your desktop with a virtual school of clownfish. The brilliantly-colored clown fish gets its name from its distinctive black and white markings. Recently, they have become ...

Bring the Feel of the beach to Your Internet! This is a browser theme like no other. You'll enjoy: A hot-looking theme and quick access to sites like Facebook, Twitter and more A ...