Anti-secure ultimate password recovery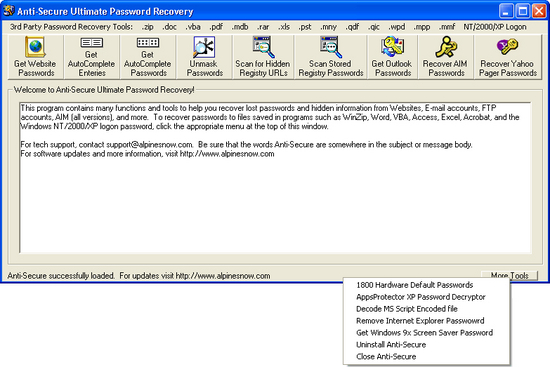 Download URL | Author URL | Software URL | Buy Now ($45)
Anti-Secure Ultimate Password Recovery is an all-in-one password recovery tool for Windows. Lost or forgotten passwords for E-mail programs, instant messaging software such as AIM and Yahoo Pager, website accounts, Hotmail, MSIE AutoComplete fields, windows screen savers, and many more software programs can be instantly recovered. This program can also unmask or unhide passwords hidden behind asterisk password protected text boxes, find passwords in the Windows registry, scan for hidden URLs of programs installed on your system, recover the AppsProtector XP Password, remove the Internet Explorer content ratings or RSACi password, and reveal the Windows 95/98/ME password of the screen saver. to This program also contains a utility that can decode files encoded by MS Script Encoder. A datafile is also included containing over 1800 default passwords various hardware system.
Related software (5)

Dupe Destroyer 5.2 removes duplicate entries from one or more wordlists very quick. These lists could contain passwords, E-Mail addresses, words from a dictionary, etc... All lists ...

This program convertes WAV files to MP3 files and in reverse, plays WAV and MP3 files, edit/modifies the MP3-Tag, displays system information, and, and, and...

Save Keys 6.0 is a completely invisible key recorder that secretly records every key typed into the keyboard along with the window title of the window or program that the keys were ...

Stealth Files hides any type of file in almost any other type of file. This is called steganography. This is a way of encrypting data so that it is hard to find. You can not decryp ...

WS_FTP Password Recoverer will recover all the passwords and host addresses to most versions of WS_FTP. The passwords are stored in the .ini files located in the WS_FTP folder.