Anti-peeper key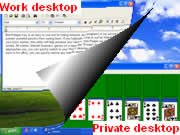 Download URL | Author URL | Software URL | Buy Now ($19.95)
Do you hate it when somebody comes by and tries to read the content of your mail while you are writing it?
Anti-Peeper Key is an easy to use tool for hiding windows and programs in one second in order to prevent uninvited persons from seeing them. If you habitually chat or surf the Web at work against your boss's wishes, this utility will help preserve your nerves. You can run your IM clients, Internet browsers, e-mail program, games on a separate "Private" desktop so if your boss approaches you, you can quickly switch to your 'Work' desktop. The hiding process is very fast because you only have to press a HotKey instead of clicking several buttons on your desktop. Hidden applications are completely hidden from the desktop, task bar, system tray. After your supervisor has gone back to his office, you can quickly restore any hidden windows and continue your work or relaxation. Anti-Peeper Key works in hidden mode so nobody will be able to see it. Anti-Peeper Key's resource footprint is
Related software (5)

If you are using a notebook and are tired of bearing in mind and typing in dozens of IP addresses and network masks for all the different locations you are visiting choose a profes ...

Hide your inappropriate computing. AntiBossKey - instantly hide windows (applications) in order to prevent uninvited persons from seeing them. Protect your privacy! Get a boss key ...

Do you ever have the uncomfortable feeling that somebody is watching over your shoulder while you're using your PC? Perhaps it's your Boss, or a member of your family? Instantly hi ...
Alex's V Project (AVP) allows you to simultaneously select one or more video sources, to add effects and to direct it out towards software of your choice. Use it when chatting with ...

CinemaDrape helps you focus on your current task on the screen (such as a video in a web page, a photo or a document editor area) by instantly blanking or dimming the other less im ...