Antares1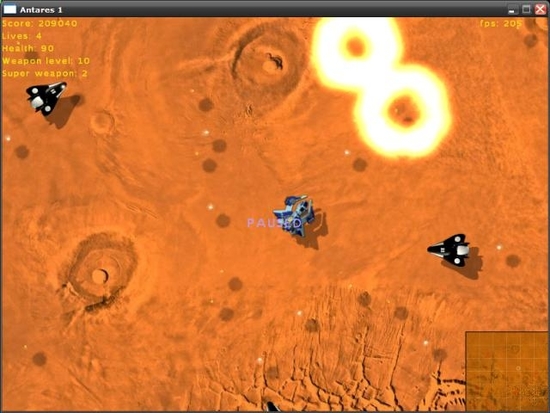 Download URL | Author URL | Software URL | Buy Now ($0)
The year is 2283. A battle for artifacts has been raging
between the Space Federation and gangs of pirates. The artifacts
were left by a vanished extraterrestrial civilization on
the planet Mars.
You are the commander of combat squadron Antares-1
and only you can repel hordes of vicious and greedy pirates.
Unfortunately, circumstances are such that
the soldiers of your Squadron failed to beat the enemy to
the specified area, they have already arrived.
You will have to fight alone.
Martial shuttles recently fell into the hands of pirates, but they are learning how to

drive them. Use this weakness against them!
The Orbital Cruiser, tracking the situation from above, will help you in battle,
tracking enemies on radar
as well as periodically recharging your battle craft and
modifying your weaponry.

The game was created in pseudo-3D, so battles
appear lush and spectacular.
Related software (5)

Welcome to the career officer, and was promoted to Admiral! This is an unusual, dynamic Tower Defense, a lot of levels. The towers have a different shooting mode, and the enemies o ...

Playing on the popularity of Angry Birds this similar game is a creation of Electronic Action, Inc. The plants are plotting against the clowns and you have to clear out the bad pla ...

Are you ready to become the best truck driver? If the answer is yes then this game is for you! Various loads of cargo need to be delivered safely. Be careful or things might get br ...

Disobedient children are busy playing in the street, during wintertime. Cold, sickness and ... oh, the horror! They became annoying, snot-nosed ZOMBIES! Show your skills as a snowb ...

AstroDude is an astronaut in an orange suit, who was forced to make an emergency landing on the planet "N" due to the fact that the spacecraft, which was supposed to get him home, ...