Antares1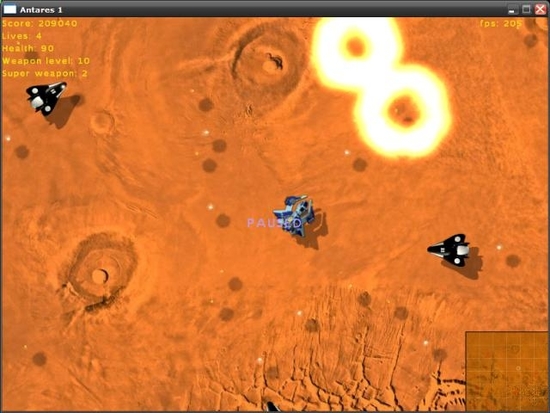 Download URL | Author URL | Software URL | Buy Now ($0)
The year is 2283. A battle for artifacts has been raging
between the Space Federation and gangs of pirates. The artifacts
were left by a vanished extraterrestrial civilization on
the planet Mars.
You are the commander of combat squadron Antares-1
and only you can repel hordes of vicious and greedy pirates.
Unfortunately, circumstances are such that
the soldiers of your Squadron failed to beat the enemy to
the specified area, they have already arrived.
You will have to fight alone.
Martial shuttles recently fell into the hands of pirates, but they are learning how to

drive them. Use this weakness against them!
The Orbital Cruiser, tracking the situation from above, will help you in battle,
tracking enemies on radar
as well as periodically recharging your battle craft and
modifying your weaponry.

The game was created in pseudo-3D, so battles
appear lush and spectacular.
Related software (5)

You roll out of bed excited for your morning tea and pastry. You sit down to enjoy it and....Yikes, a cockroach is trying to steal your breakfast! Oh no, there are more of them! T ...

In the lair of the dragon ice grows unusual tree, whose fruit ripens in winter. The fruit of this tree is very curative - any illness disappeared in one day. Also, these miracle fr ...

A little old man is trying to save his innocent planet from being taken over by a villain named Gnumanikus, and to catch him in the process. Help him in this difficult endeavor. Yo ...

The author of this project was inspired by the old, but still fascinating Arkanoid game, in which you clear the playing field of multi-colored blocks by bouncing a ball to them. Nu ...

Description: Welcome to the Arena! In this game, your goal is to kill as many enemies and survive! At your disposal: rifles, shotguns, pistols and sniper rifle! Explore the area to ...