Antares1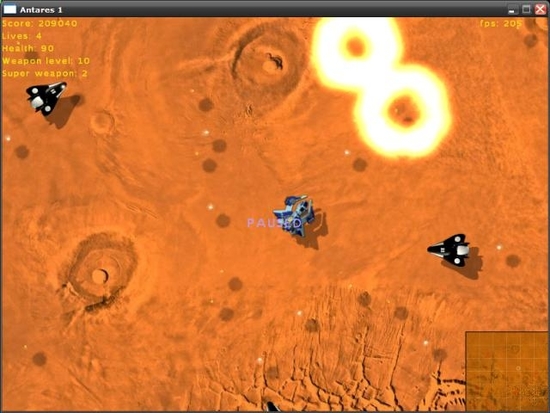 Download URL | Author URL | Software URL | Buy Now ($0)
The year is 2283. A battle for artifacts has been raging
between the Space Federation and gangs of pirates. The artifacts
were left by a vanished extraterrestrial civilization on
the planet Mars.
You are the commander of combat squadron Antares-1
and only you can repel hordes of vicious and greedy pirates.
Unfortunately, circumstances are such that
the soldiers of your Squadron failed to beat the enemy to
the specified area, they have already arrived.
You will have to fight alone.
Martial shuttles recently fell into the hands of pirates, but they are learning how to

drive them. Use this weakness against them!
The Orbital Cruiser, tracking the situation from above, will help you in battle,
tracking enemies on radar
as well as periodically recharging your battle craft and
modifying your weaponry.

The game was created in pseudo-3D, so battles
appear lush and spectacular.
Related software (5)

Beautiful arkanoid performed in the vector. Melodic music. Control with the mouse. Dial as many points and be the leader of the table!

Bob the robot loves treasure. But Bob is not just any robot. He's a robot-pirate. He's not interested in sea adventures, battles, or distant shores. All he wants is treasure. But B ...

Grand Piano is very easy to play and at the same time an interesting application. Now you have the opportunity to play and compose music on your computer! The program is not only a ...

This functional virtual piano allows you to use your keys as a keyboard, with the keys being customizable. After starting you can immediately start playing. Grand Piano 2 is an exc ...

You're alone on an island, and the goal of the game is to survive here. You have to go a long way to just stay alive and get what you need from this island, and interact with a var ...