Antares1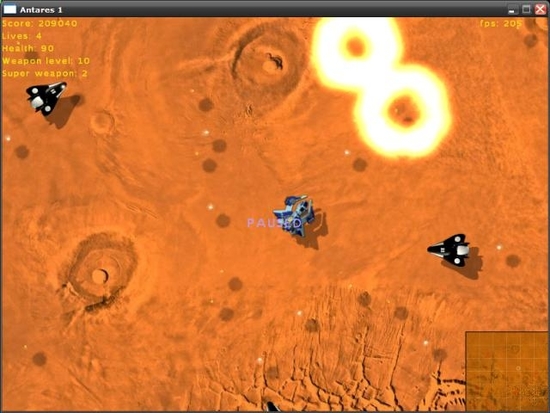 Download URL | Author URL | Software URL | Buy Now ($0)
The year is 2283. A battle for artifacts has been raging
between the Space Federation and gangs of pirates. The artifacts
were left by a vanished extraterrestrial civilization on
the planet Mars.
You are the commander of combat squadron Antares-1
and only you can repel hordes of vicious and greedy pirates.
Unfortunately, circumstances are such that
the soldiers of your Squadron failed to beat the enemy to
the specified area, they have already arrived.
You will have to fight alone.
Martial shuttles recently fell into the hands of pirates, but they are learning how to

drive them. Use this weakness against them!
The Orbital Cruiser, tracking the situation from above, will help you in battle,
tracking enemies on radar
as well as periodically recharging your battle craft and
modifying your weaponry.

The game was created in pseudo-3D, so battles
appear lush and spectacular.
Related software (5)

Take part in the exciting adventures of a clever boy. You have to run on platforms, jump on boxes, avoid dangerous enemies and grab hooks to pass over sharp spikes, all while colle ...

Life Simulator On-Line is a new game that will give you the opportunity to spend a day of fun with your friends. Life Simulator will allow all to feel life in the present day: Ridi ...

Play the most realistic driving simulator, VAZ 2108!

You have been given the unique opportunity to sit behind the wheel of the truck in this new game. Transports goods, earn money and buy more and more powerful trucks.

"Skynet: Rampage II" is a tactical stealth action game set in a post-apocalyptic future. To survive in this new world is challenging, as you have to fight against robots and other ...