Animated aquarium wallpaper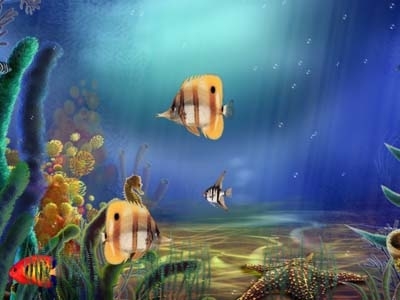 Download URL | Author URL | Software URL | Buy Now ($0)
Water is one of the most important elements in people's life. People love watching the river flow, waterfalls, scuba diving to see marine life, hidden in the dark depths of the sea. Some people install large aquariums at home with complex system that requires constant care. Install our aquarium wallpaper and you will get the same pleasure as if before you swam real live fish, different colors, shapes and sizes. Realistic effects and quality graphics will decorate your desktop and give you moments of joy and relaxation. Sure, your relatives and friends will be surprised of seeing the monitor animation instead of real aquarium!
Related software (5)

Morning Snowfall Wallpaper is a great decoration for your desktop on the eve of Christmas and New Year holidays. Setting animated wallpaper is very simple, it only takes a couple o ...

Swan is a symbol of rebirth, purity, nobility, wisdom and perfection. The symbolism of the swan is practically the same in most of the world. Our new animated wallpaper Swan Love i ...

Why do we love Christmas and New Year? These days more than ever we feel the value of the home warmth and comfort. We decorate our house before Christmas, the homes start to sparkl ...

Stunning, cozy winter landscape. Excellent graphics. And singing Santa's helpers! Be careful not to miss the sight of Santa, because he races now with gifts, and maybe he will be a ...

Autumn is the most enchanting time of year. With our new wallpaper autumn charm, you are able to see and feel the the beauty of the autumn forest. In the intro-quality realistic gr ...