Analog clock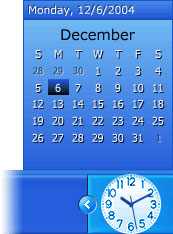 Download URL | Author URL | Software URL | Buy Now ($0)
For human readable information, both digital and analog display methods can be useful.
For instant information at-a-glance, analog meters are often superior. Many people glance quickly at their analog watch and immediately know roughly what the time is.

Analog Clock is an analog, skinnable, Windows tray clock replacement. The careful study of the shape and proportion of the numbers, the thickness of the screen-printing, and the color of the background all ensure instant readability from various distances and angles.
Analog Clock is perfect for both your office desktop as well as your home PC.

Analog Clock is available with several skins that resemble the look and feel of the standard XP visual styles. Skins are tunable. You can switch on or off some of the interface elements, such as the second hand, for example.

Analog Clock is an NTP-enabled application. It will update your system clock time, synchronizing it with atomic clocks through the Internet. In addition, the program shows
Related software (5)

It allows a user to change the output format of the System Tray Clock. Some persons like set their watches little ahead. Especial for them the program can shift output time ahead b ...

A superb suite of analog and digital clocks and other timekeeping tools. Featuring timezone clocks, internet time synchronization, alarm, calendar, daylight map and other accessori ...

A spaceship landed onto a distant planet, where scientists have found a deposit of new resources. The ship started extracting such treasures of the planet as joy, pleasure, love an ...

SClock Plus is an easy-to-use desktop multilingual speaking clock with skin support and full-featured alarm system, that allows an user to set multiple alarms.

Global Time Synchronizer is a versatile time keeping tool that has many features including the ability to modify the look of your standard desktop clock, an easy-to-use, convenient ...