Afterlogic webmail pro php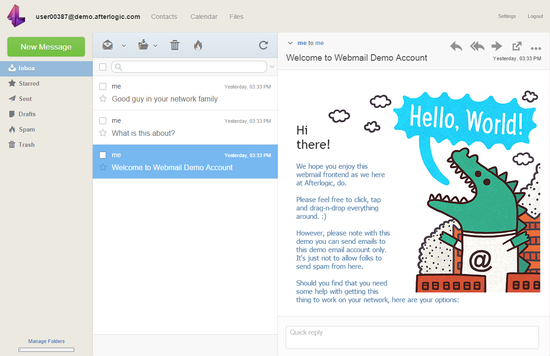 Download URL | Author URL | Software URL | Buy Now ($49)
Premium-class webmail front-end for your existing IMAP mail server, written in PHP. Fast and clean interface with desktop and mobile layout makes it easy to access mail, calendars, contacts, Files storage and other data.

Users can check and send mail, see emails organized in threads, use Inbox, Sent, Drafts and other folders, create new folders, set Sieve mail filters, signatures, identities, and other options.

E-mail composer supports drag-n-drop of images and attachments from desktop.

Mail viewer correctly and safely displays HTML messages (blocking javascript and external images) and fully supports international charsets and UTF-8. Arabic and Hebrew users can choose RTL (right-to-left rendering). Attachments can be downloaded with drag-n-drop, images and PDFs are previewed with thumbnails. Users can open zip and winmail.dat attachments, or download all attachments with a single click.

Address Book can store contacts and groups (local db or LDAP server), and expose them as CardDA
Related software (5)

Barca is a seamless integration of a powerful email program, personal information manager, planner and RSS. Aimed at the professional and small business market, Barca provides a si ...

A powerful email program that does not compromise your privacy or security. The streamlined interface never gets in your way, with many unique features that allow you to conquer yo ...

Open source PHP webmail front-end for your existing mail server. Fast and clean AJAX interface, IMAP/SMTP/SSL, LDAP, folders, rich-text editor, address book, web admin panel, UTF-8 ...

Enables .NET applications to sign, verify, encrypt, decrypt e-mails, work with DKIM/DomainKeys, S/MIME and SSL/TLS certificates, connect to secure mail servers with MailBee.NET SMT ...

Collaboration platform for your existing mail server. IMAP webmail, mobile version, Calendar with sharing, personal and global Contacts, Files, Helpdesk, CalDAV/CardDAV mobile and ...