Aes home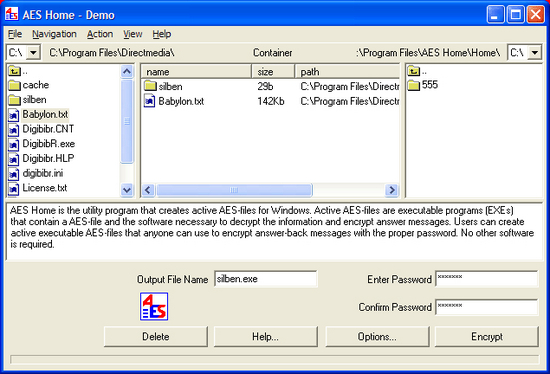 Download URL | Author URL | Software URL
AES Home is the utility program that creates active AES-files for Windows. Active AES-files are executable programs (EXEs) that contain a AES-file and the software necessary to decrypt the information and encrypt answer messages. Users can create active executable AES-files that anyone can use to encrypt answer-back messages with the proper password. No other software is required. These active AES-files are ideal for safe electronical distribution of the information because they contain multiple compressed and encrypted files and folders. This feature is especially convenient for sending encrypted files to people who do not have PGP or CHAOS Public Key installed.
Related software (5)

AES Free is the suite of encryption tools for personal security.

AES Pro is the suite of encryption tools for personal and professional security.

What can you do with ABC CHAOS? Easily encrypt files into your personal data archive. You can be confident that the data is safely secured.

Data compression utility, which allows you to quickly open, create, and modify your archives.

CHAOS Generator is an application designed to generate passwords of any length and character content