Adinf32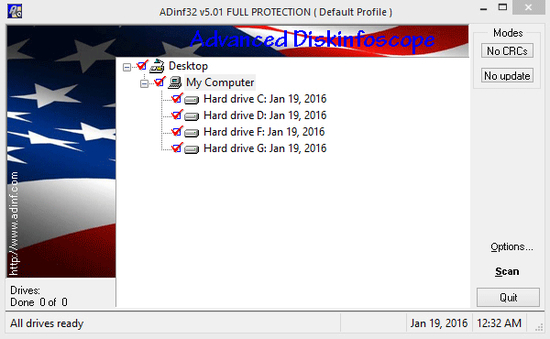 Download URL | Author URL | Software URL | Buy Now ($9.99)
ADinf32 is the celebrated antivirus and security tool used in Russia over 20 years. Fully updated to current industry standards, ADinf32 scrupulously evaluates a system for full data integrity and security, and for other data modifications. ADinf32 is currently used by hundreds of thousands of important institutions and individuals, including such notable corporate users as the Central Bank of Russian Federation and the Russian Ministries of Defense and Economics, which use ADinf32 on almost all of their computers! Many users run ADinf32 every day to check their systems - considering this program their most reliable instrument for virus detection. To find a lost file, to analyze the results of a system failure, to make sure databases and documents are safe, to figure out why all free space on your hard disk is gone, to detect and neutralize a computer virus - all this can be done by ADinf32.
An important feature that makes ADinf different from other disk inspectors and integrity checke
Related software (5)

Ultimate Protection Management of Personal Documents or Information! Lockend means - The End of Security Problems!. It is new conceptual management software for protection of docu ...

LucidLink Wireless Security makes it easy for small offices to set-up, secure, & manage Wi-Fi wireless networks. Delivers Fortune 500 strength security and auto-configures leading ...
HashTab provides OS extensions to calculate file hashes and supports many hash algorithms such as MD5, SHA1, SHA2, RipeMD, HAVAL and Whirlpool.

The next-generation anti-virus tool utilizies the power of more than 50 virus scanner at once and combines them in a unique tool. Common gateways like download or desktop folders g ...

Set frequency levels for how often you would like to perform integrity checks. Plus receive notification automatically via the system tray when those dates have been exceeded. Thi ...