Absolutetools-passgen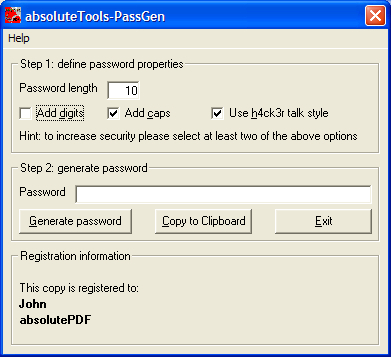 Download URL | Author URL | Software URL | Buy Now ($9.95)
A small utility to generate robust passwords of fixed length pronounceable or with digits or caps or h4ck3r talk style characters.
This improves security since generated passwords aren't open to dictionary based attacks and can't be guessed using personal information about the owner.
Easy to use, easy to activate with Registration Wizard.
Related software (5)

MDWRecovery recovers users and admin passwords from MDW files.

Password Generator allows to generate random passwords with a mouse click. Using Online Random Password Generator you do not have to think out new passwords. Password Generator wil ...

RoboForm2Go for USB flash drives makes your life easier, more secure and portable. It memorizes and securely stores your passwords. It logs you into online accounts, completes onli ...

MobileWitch-Pass-Safe-PC is a strong, innovative password manager software that also extends its utility over Pocket PCs providing highly encrypted passwords. This application ensu ...

Mindful combines an event reminder and password manager into one simple application. The event reminder reminds you of all your important events. The password manager allows you to ...