Absolute color picker activex control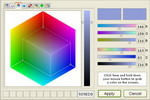 Download URL | Author URL | Software URL | Buy Now ($29.95)
Absolute Color Picker ActiveX Control is a component that includes two dialogs: color selection dialog and gradient filling dialog. The component is easy to use and implement in your projects. You will save time, money and get excellent results! Our component supports Alpha-channel technology to let you choose transparency level for the chosen color and allows editing gradients - a great opportunity to make your project look more sophisticated and professional. It contains dialog pages for different color models (7 dialog pages for HSB model, a dialog page for RGB model) and history of 12 selected colors. Absolute Color Picker AcitveX Control is designed with simplicity in mind and could be easily integrated into most of contemporary IDEs (Intergated Development Environment) such as Microsoft Visual Studio .Net, Microsoft Visual Basic/C++, Boland Delphi, CBuilder etc. Extensive methods and properties description, code examples will help any level programmer to master it at zero-time t
Related software (5)
Absolute Color Picker is a freeware enhanced color selection dialog with RGB and HSB color models. Unique color selection dialog models provide versatile color schemes for selectin ...

Finch Color Manager is your own professional color manager and it is well designed for who works with color

Color Wheel Expert enables users to select a color and then have 12 harmonious colors displayed on a color wheel. With the flexible color palette and color wheel box, users can eas ...

Pick single or multiple pixel colors anywhere on your screen in more than 25 formats! Convert colors from one color space to another. Automatically generate color variations for th ...

Free Colorwheel is a free application for creating correct color schemes for graphic designs e.g. images, webpages.It can create 5 different types of color schemes : Monochromatic, ...