3d ball slider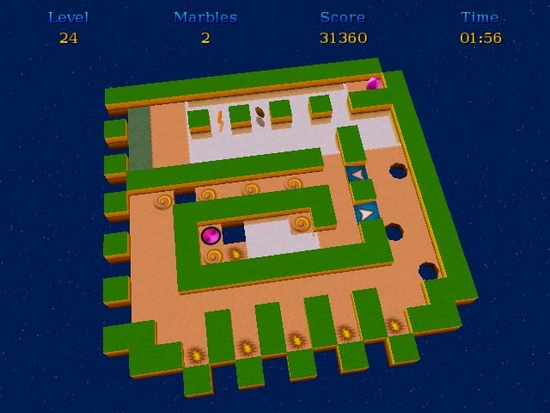 Download URL | Author URL | Software URL | Buy Now ($9.95)
3D Ball Slider is a peaceful game to develop skills for moving things in the three dimensions, concentration and self control since the perfect ballistic give an astonishing illusion of what you would get by handling real objects. It offers three levels of difficulty, each with 61 runs. The game consists in letting balls roll on a plate. You direct them so that they get to their respective supports without falling off simply by controlling the inclination of the plate using the arrows of your keyboard. To make the game even spicier, you will face challenges all along the way. You will trigger switches, run on springboards, drive on ice, avoid holes etc.
Related software (5)

A full 3D attractive and colorful word puzzle game in three languages: French, English and Spanish with 180 levels of game with element of strategy and optional sound effects, musi ...

A breakout extravaganza with totally unique levels, music, graphics and boards. You choose which levels to play in the order you want. Each board consists of its own theme and musi ...

Sudoku-Ball(R) is a new Sudoku concept. The challenge is to solve a Samurai 3D Sudoku network with 14 sudokus on a spherical object such that the entire network is closed in all di ...

Tennis Elbow 2013 is a great tennis game, featuring both fun and realistic gameplay. You can play on 9 grounds: 2 clays, grass, 2 synthetics, 2 hards, 2 indoors. In world tour, you ...

Become a tennis coach and manage up to 4 tennis players : take care of training sessions, planning, sponsors, team members, and more ! Will you be able to lead your players to the ...