1-net client for windows x64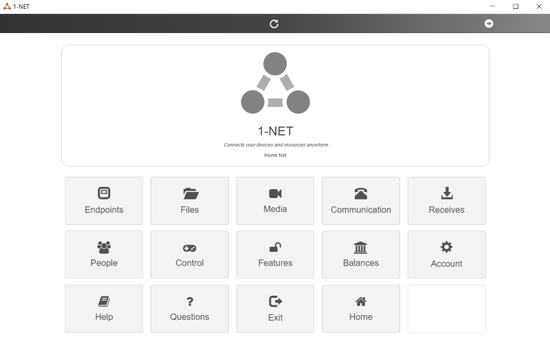 Download URL | Author URL | Software URL
Computers and smart devices can be connected inside 1-NET at anytime and anywhere on the internet. Users can exchange data between devices and friends, multi-cast real-time audio or video streams, engage in audio or video chat, manage devices, etc. There is no need for plugins or setup.

The current program is for 64 bit Windows system. A use can use it to connect devices of other types, like a mobile APP a desktop client or a browser, etc.

The initial release version of the 1-NET client is limited to connecting devices within a common account. It can do
1) File exchange: Exchange files on hard disk, instantaneous transfer of photos, audio/video recordings taken to a remote device.
2) Audio collaboration: Coordination can be realized when doing data exchange (like data transfer, multi-cast, etc.) using an independent two-way audio channel.
3) Multi-casting: It can be used to multi-cast video (and/or audio) streams coming from camera (and/or microphone) or screen capture to a selected
Related software (5)

EasyRemoteSupport is a powerful remote support software which is extremely easy to operate. There are only three steps to do to activate the software: Register, Charge your Credit ...

Computers and smart devices can be connected inside 1-NET at anytime and anywhere on the internet. Users can exchange data between devices and friends, multi-cast real-time audio o ...

Alpemix is a remote control, desktop sharing and file transfer software. It works behind any firewall and NAT proxy. It doesn't require installation or any settings. For connect to ...

This Terminal Services Solution for OS X allows multiple users to utilize one or more Mac Systems simultaneously, using iRAPP Client or any RDP Client.

Remote PC control solution with wealth of possible applications - from accessing home computer from office, to providing remote technical support, managing network from different l ...