Texture workshop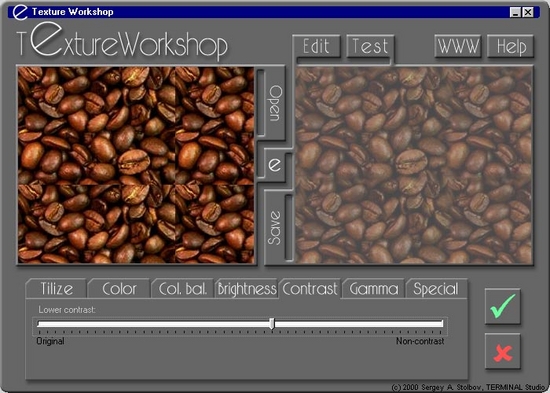 Download URL | Author URL | Software URL | Buy Now ($24.95)
Texture Workshop is a multifunctional toolbox which allows to turn practically any picture into a repeatable tile very quickly and easily. Such tiles are used as backgrounds of webpages, as wallpapers, as textures for 3D objects and for many other purposes. The program can be used conveniently both by a beginner for creating the very first own home page and by a professional web designer for the large scale work. It can also effectively substitute the well known expensive, "heavy" and demanding experience graphic applications if you need to edit quickly your pictures of any kind. The unique feature of this toolbox is the "tilization procedure". You can take any picture with similar objects (leaves, stones, beans, nuts, bolts etc.) and with a single pressing a button process it so that the right area of the picture will imperceptibly flow into the left area and the lower area will flow into the upper one. In other words, a real repeatable tile will be obtained. The same can be done with
Related software (5)
With Colour Spy you can easily pick the exact RGB Hex Colour Code from any window of the screen and place it on clipboard to access from any HTML or graphics editor !

Find the ultimate populadomain name using powerful brainstorming: automatic thesaurus, advanced word groups with positioning, search engine and link popularity, pattern search, Net ...
RXL is an assistant simple to use tool to help you learn and prepare regular expressions. If you are a developer or just concerned with text processing tasks, the Regular Expressio ...
Say I set up shopping site using something like magento. How do I go about making it use SSL and secure the checkout process?

Beneton Movie GIF is a complete GIF editing tool. It supports over 48 file formats such as BMP, GIF, JPG, and PNG. Drag-and-drop allows to move frames quickly, and multiple frames ...