Restore attachments from links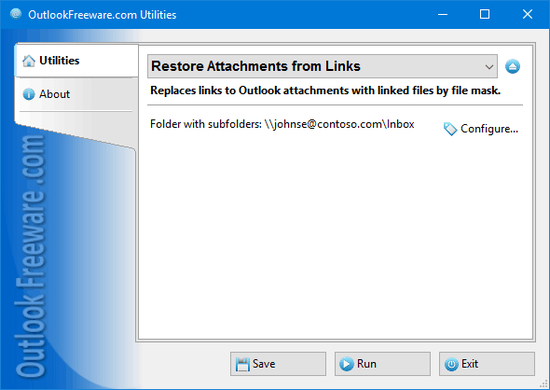 Download URL | Author URL | Software URL | Buy Now ($0)
This free utility puts the saved attachment files back, in place of links, created by the "Replace Outlook Attachments with Links" utility in email messages, appointments and meetings, contacts, and other Outlook items. It allows you to restore Outlook attachments securely from links. For example, you need to forward or redirect the message containing the attachment replaced with link. In this case, you can quickly restore the attachment from the link, so the recipient could open it.
Most Outlook users make backup copies of their PST data files and mailboxes. If you replace the attachments with links, the backup will save links, not the attachment files. If you want the actual attachments to be stored in a backup, you may need to restore them from links first. The utility allows you to put the attached files back in Outlook quickly and perform the backup losing no attachment data.
The utility is easy to install and use. Flexible settings allow you to choose in which types of Outlook it
Related software (5)
Free, easy and fast way to pack attachments in messages, contacts, tasks, calendar and journal items in Microsoft Outlook. Any Outlook folders and attachment types can be specified ...

This free utility performs a one-time or periodic backup of your mailboxes, public folders, PST data files, and other Outlook/Exchange Server storages. The utility uses MSG format ...

This free report allows you to check Outlook for existence of identical attachments in mailboxes (duplicate attachments). After verification, you will receive a detailed report on ...
This free tool saves attachments from messages, contacts, appointments, meetings, tasks, notes, journal entries and other Outlook items to the specified folder by file mask and rep ...

This free utility changes the location of the files in the linked attachments of email messages, contacts, calendars, tasks, and other Outlook items. The links remain in place as a ...