Online contact manager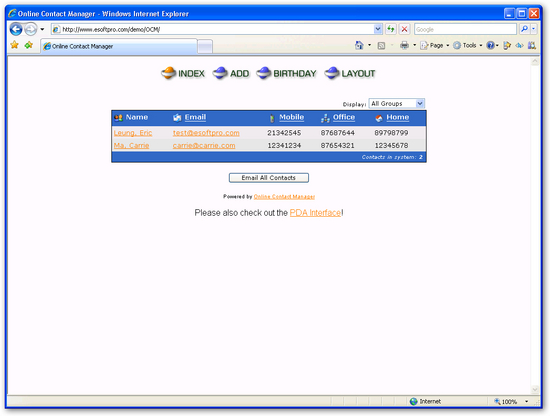 Download URL | Author URL | Software URL | Buy Now ($24.95)
Online Contact Manager (formerly known as EContact PRO) is an ultimate online database system that allows you to store and retrieve contact information anywhere - anytime! You'll also be able to easily send emails to contacts with the built-in email client. Online Contact Manager features Sorting, Mass Emails, Group Support, MS Outlook Synchronization, Birthday Reminder, Data Export (CSV/TAB/HTML), Preference Control, Full Data Manipulation Interfaces, 30+ Customizable Fields and much more. There is also specially designed PDA interface allows you to use EContact PRO through your PDA/Cell.

With Online Contact Manager:

Your company can store, share and retrieve all employees info in one centralized database.

You can retrieve clients information while you are not in office.

You will remember all your friends' birthday.

Your organization or community members can retrieve other memebers' information.

You can send emails to your friends no matter what computer you are using.

You ca
Related software (5)

Intuitive, powerful, small, and extremely flexible Address Management program - unique, among the many apparently similar programs, in that it enables you to define your own addres ...
A comprehensive email management and subscription system. You can use it to keep visitors updated with the latest information, improving customer relationships. Online Email Manage ...

In addition to the conventional name, first name, phones and multiple addresses, the advanced graphics interfaces of Contact Manager manage your relationships and friends through y ...

Open source PHP webmail front-end for your existing mail server. Fast and clean AJAX interface, IMAP/SMTP/SSL, LDAP, folders, rich-text editor, address book, web admin panel, UTF-8 ...

Collaboration platform for your existing mail server. IMAP webmail, mobile version, Calendar with sharing, personal and global Contacts, Files, Helpdesk, CalDAV/CardDAV mobile and ...