Laptop mail server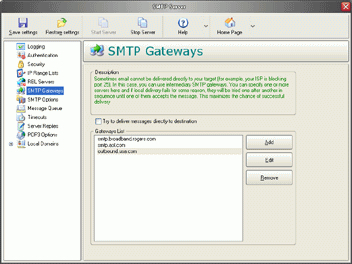 Download URL | Author URL | Software URL | Buy Now ($69)
Laptop Mail Server is a high-performance and reliable SMTP/POP3 server program. You can use this program in many environments ranging from being a local server for your corporate offices to a standalone SMTP relay for your laptop. It will accept mail on behalf of your users and store in special branched queue, until your users retrieve it using POP3. Our main purpose in developing this server was to deliver the easiest possible configuration, allowing you to be able to tweak any advanced features you want. We have completely redesigned the internal engine of the server, and made every possible effort to make it as fast and robust as possible. This way now you able to concentrate on your day tasks instead of following the steps of mail server work. The server can be used along with virtually any mailer or email client program that is compliant with SMTP protocol. It is easy to use, smart, lightweight, powerful and absolutely bullet-proof. It has a lot of security features and options th
Related software (5)
MailBee S/MIME ActiveX enables MailBee Objects (SMTP, POP3 and IMAP4) to process S/MIME mails. Supports file and registry certificate stores, PFX, sign, verify, encrypt, decrypt, 3 ...
.NET classes which let your applications create, send, manage, download and parse mail. SMTP, POP3, IMAP, SSL, S/MIME, DNS MX, anti-spam, HTML mail, attachments, international char ...
MailBee.NET POP3 enables .NET applications to receive, parse and manage mail on POP3 servers. Supports SSL, proxy, Bayesian spam filter, HTML mail, international charsets, embedded ...
Reduces response times of mail sending operations by offloading actual delivery of e-mails from the application to the service. Compatible with any software which can make EML file ...
MailBee.NET SMTP enables .NET applications to compose, mail merge, send to SMTP server (including Gmail and MS Exchange), submit to IIS queue, direct send without SMTP server. Supp ...