Laptop mail server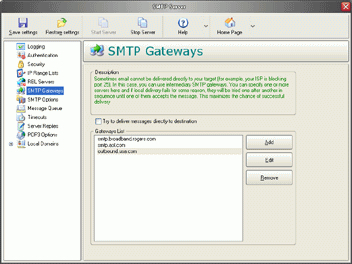 Laptop Mail Server is a high-performance and reliable SMTP/POP3 server program. You can use this program in many environments ranging from being a local server for your corporate offices to a standalone SMTP relay for your laptop. It will accept mail on behalf of your users and store in special branched queue, until your users retrieve it using POP3. Our main purpose in developing this server was to deliver the easiest possible configuration, allowing you to be able to tweak any advanced features you want. We have completely redesigned the internal engine of the server, and made every possible effort to make it as fast and robust as possible. This way now you able to concentrate on your day tasks instead of following the steps of mail server work. The server can be used along with virtually any mailer or email client program that is compliant with SMTP protocol. It is easy to use, smart, lightweight, powerful and absolutely bullet-proof. It has a lot of security features and options that allow you to protect the server from DDoS attacks as well as safely block most of the SPAM and spammers. SMTP and POP3 servers work as NT services therefore they will keep working even no users are logged in. For software debugging and testing purposes, the program has a testing mode you can use to check if your email clients work correctly. In this mode, all messages are accepted and immediately discarded without sending, so that you can check if your mail client works correctly according to SMTP protocol. If you travel a lot with your laptop, you can use multiple SMTP gateways with your server. This way, even if there is no an ability to deliver your email directly to the destination, the program is still able to send it by using one of the gateways. Newly added feature is advanced mailing list management. This is not actually present in any other SMTP server, but you can use this server as a mass mailer with this feature. You can create many customized mailing lists as you like.
Download URL | Author URL | Software URL | Buy Now ($69)
Related software (5)

Software to send email messages/newsletter to clients on fast and easy way

Shareware software used to send email messages/newsletter to clients on fast and easy way with many options and features.

An easy to use network traffic monitor for the Windows-based platforms with the abilities of real time monitoring all traffic flowing around the local network and to/from the Internet.

LiteMail is an easy to use mail server with mail forwarding, SMTP Authentication, and a catch-all address for each domain.

A powerful email program that does not compromise your privacy or security. The streamlined interface never gets in your way, with many unique features that allow you to conquer your mailbox: fast searches, full-page preview, Bayesian filters...