Jalada tictac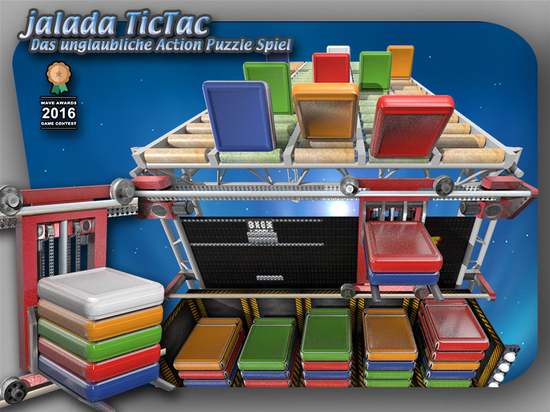 Download URL | Author URL | Software URL | Buy Now ($0)
This hot 3D arcade hit brings new fun to your location. Should you get this mind-boggling brainteaser? If you love playing the awesome Candy-Crush or the basic idea of Tetris then the true answer is .. YES!

jalada TicTac is very simple in concept: Move your forklift to catch the colored tiles that came down the conveyor belt and flip them into the bins. Rack up points by arranging them in same colored stack or rows. The rows can be vertical, horizontal, or diagonal, and three or more tiles in a row creates a Tic-Tac.

Sounds easy right? It is, until the tiles speed up and tumble down the ramp so fast, you'll go nuts trying to catch them all - while figuring out where best to stack them before you run out of room. Faster and faster your forklift becomes a blur as you struggle to keep up with the pace.

jalada TicTac will lest your reaction time and ability to think fast and think ahead while providing hours of fast-paced fun.

And jalada TicTac is completely free to play, but some opt
Related software (5)

A220 Mission 1 is an arcade style game ( Java Midlet for your Mobile / Cell Phone). Fly through mountains and cave systems eliminating multiple enemies before finally destroying th ...

Add one part Space Invaders and one part Galaga, then shake with twist of Asteroids to get AstroRaid, a modern version of an arcade space shooter. Use your missiles wisely and coll ...

If you are a real fan of the classic Tetris game then this free Tetris game screensaver is just what you need. It will bring you to a fascinating world of a very popular puzzle gam ...

Put on a helmet and get behind the wheel of a fast race car! This fabulous 3D game will put you to a test of speed and skill. Compete on a variety of race tracks in different weath ...

Stackup is a cool game that include Columns, StackUp and Bricks. 100 best scores saved for each game. Background music included. Background sounds from original ZX Spectrum. Select ...