Greedy bot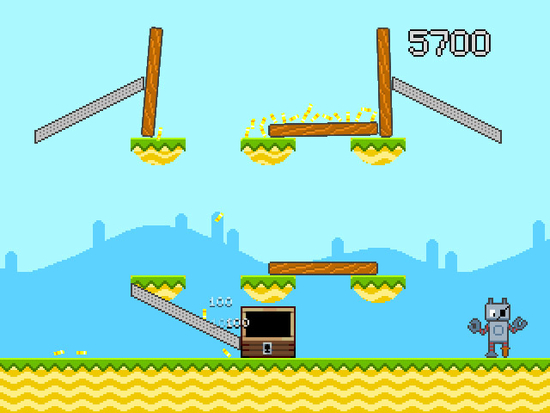 Download URL | Author URL | Software URL | Buy Now ($0)
Bob the robot loves treasure. But Bob is not just any robot. He's a robot-pirate. He's not interested in sea adventures, battles, or distant shores. All he wants is treasure. But Bob needs your help. He's not very bright, and while gold is great, it doesn't help him get smarter. This is why he needs you! Help Bob fill his treasure chest with gold coins. Solve puzzles and use a variety of items and tricks to bring all of the gold you find to Bob. Vivid graphics, exciting levels, and a sea of gold are waiting for you!
Bob the robot loves treasure. But Bob is not just any robot. He's a robot-pirate. He's not interested in sea adventures, battles, or distant shores. All he wants is treasure. But Bob needs your help. He's not very bright, and while gold is great, it doesn't help him get smarter. This is why he needs you! Help Bob fill his treasure chest with gold coins. Solve puzzles and use a variety of items and tricks to bring all of the gold you find to Bob. Vivid graphics, exciting lev
Related software (5)

In the lair of the dragon ice grows unusual tree, whose fruit ripens in winter. The fruit of this tree is very curative - any illness disappeared in one day. Also, these miracle fr ...

A little old man is trying to save his innocent planet from being taken over by a villain named Gnumanikus, and to catch him in the process. Help him in this difficult endeavor. Yo ...

Gravity Box is a platformer where you can switch the direction of gravity. You need reach the green gates in order to complete each level.

Protecting Water Seal was broken. You soldier named Keith, will go on a dangerous adventure to find out who broke the defense. You are waiting for nice graphics and excellent music ...

Beautiful 3D open-world game in which you'll have to overpower a lot of fantastic creatures using different types of magical staves.