Free md5 sha1 verifier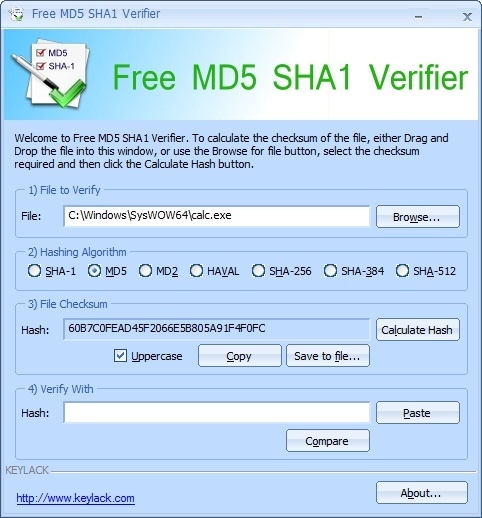 Download URL | Author URL | Software URL | Buy Now ($0)
Free MD5 SHA1 Verifier is a freeware tool designed to calculate and verify checksums (hash) of downloaded files. Supports MD5, SHA-1, HAVAL, MD2, SHA-256, SHA-384, SHA-512. Key Features: The program has a convenient user interface. Instantly calculate checksum (hash) for any file. Verify file checksum. Supports most hashing algorithm: MD5, SHA-1, HAVAL, MD2, SHA-256, SHA-384, SHA-512. Works on Windows 2000, XP, 2003 Server, Vista, 2008 Server, 7 (x86 and x64 editions). Drag-and-Drop is supported. The program is very customizable. Easily save result to text file or copy to clipboard. 100% Freeware! Free for personal and commercial use.
Related software (5)

Fast, highly optimized implementation of popular checksum algorithms: CRC32, CRC16, CRC16C (CRC-CCITT). The library allows to calculate checksums for files, memory blocks, strings, ...

An extremely fast utility for your files integrity control. The high accuracy attains through the usage of a cryptographic algorithm, as a matter of fact FastSum is a Windows MD5 C ...

Fast calculator to compute hash, checksum, HMAC values for file, text and hex string. Supports MD2,MD4,MD5, SHA1,SHA2, RIPEMD160,PANAMA,TIGER, CRC32,ADLER32 algorithms and the hash ...
HashX is a powerful yet very easy to use application designed for computes hash value(checksum) for any single file, it allows you to verify that downloaded files are not corrupted ...

File Checksum Tool is a free portable utility that calculates MD5, SHA-1, HAVAL, MD2, SHA-256, SHA-384, SHA-512 hash from a file. The software allows you to verify the Hash or crea ...