Fcorp - randomizer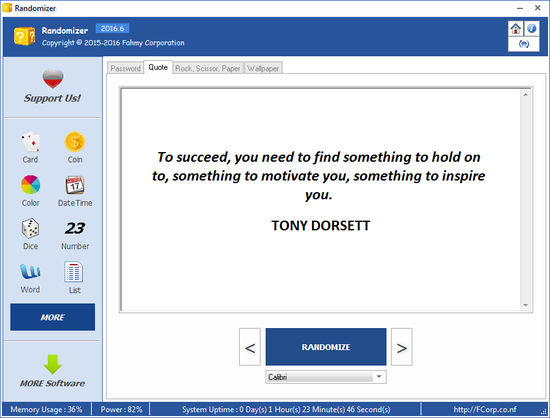 Download URL | Author URL | Software URL
Randomizer comes with several tools that support randomization, including a deck of cards, a coin, dice, numbers, words and lists. Any of these elements can be easily configured and randomized, as they do not feature complicated controls.

Configuration consists of choosing a number of elements and setting the desired range value (if that is the case or if it exceeds a certain threshold). For instance, if you want to display a couple of playing cards randomly, you need to select two cards and click the Randomize button.

On the other hand, if you want to generate random numbers, you need to specify how many random values do you need and set an appropriate range. Additionally, this application can pick a certain number of words from a user-defined list or randomize the order of items within a list.
Related software (5)
FREE and Portable Registry Cleaner & Disk Cleaner.
Manage diary/note, schedule, todo, birthday, etc.
Quickly launch your Favorite Files, Folders, Programs, etc by Typing a Command or more.
Code Template Manager for Programmer
Manage your hard drive and other storage devices.