Dtsearch text retrieval engine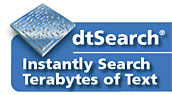 Download URL | Author URL | Software URL | Buy Now ($999)
dtSearch Reviews
* "The most powerful document search tool on the market"-- Wired Magazine
* "dtSearch ... leads the market" -- Network Computing
* "Finding a virtual needle in a digital haystack is now much easier" -- MS OfficePRO
* "Blindingly fast" -- Computer Forensics: Incident Response Essentials
* "A powerful arsenal of search tools" -- The New York Times
* "Super fast, super-reliable" -- The Wall Street Journal
* "Covers all data sources ... powerful Web-based engines" -- eWEEK
* "Searches at blazing speeds" -- Computer Reseller News Test Center
See www.dtsearch.com for hundreds more reviews and case studies.

INSTANTLY SEARCH TERABYTES OF TEXT
The dtSearch product line can instantly search terabytes of text across a desktop, network, Internet or Intranet site. dtSearch products also serve as tools for publishing, with instant text searching, large document collections to Web sites or CD/DVDs. General features include:
* over two dozen indexed, unindexed, fielded and full-tex
Related software (5)

Add spell checker capabilities to your Windows projects! With EffectiveSoft Spellchecker SDK this is easy. The development library contains a common DLL interface and interfaces fo ...

Source code metrics measurement tool with persistence and historical comparisons. Use to measure code quantity and quality for C++, C, C#, VB.NET, Java, Delphi, Visual Basic (VB6), ...

Textract SDK can feed a new program with text data from an existing application even if this application does not support any communication API, like clipboard copy-paste or OCX/au ...

Create easy to understand flowcharts out of difficult to understand program source code. You can use this tool to document, visualize and understand source code. The program can pr ...

Elerium Excel .NET Reader is a professional .Net component that allows developers to read Excel spreadsheet files XLS, XLSX, CSV from .NET applications or ASP.NET websites (C#, VB. ...