Common jdk 1.8+ utility classes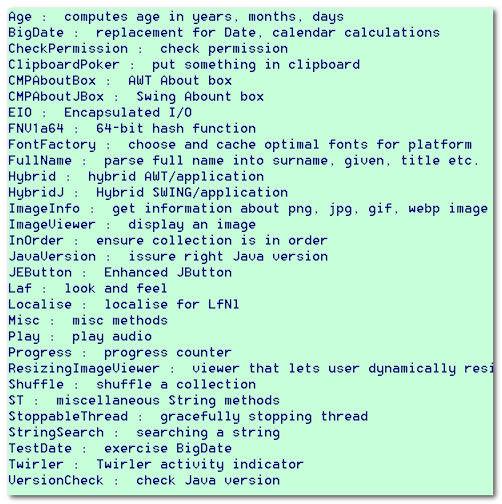 Download URL | Author URL | Software URL | Buy Now ($0)
Common utility classes that work under Swing Java 1.8+.
They are intended to be included in your own Java programs.

Some of the classes included are:

Age : computes age in years, months, days
BigDate : replacement for Date, calendar calculations
CheckPermission : check permission
ClipboardPoker : put something in clipboard
CMPAboutBox : AWT About box
CMPAboutJBox : Swing Abount box
EIO : Encapsulated I/O
FNV1a64 : 64-bit hash function
FontFactory : choose and cache optimal fonts for platform
FullName : parse full name into surname, given, title etc.
Hybrid : hybrid AWT/application
HybridJ : Hybrid SWING/application
ImageInfo : get information about png, jpg, gif, webp image
ImageViewer : display an image
InOrder : ensure collection is in order
JavaVersion : issure right Java version
JEButton : Enhanced JButton
Laf : look and feel
Localise : localise for LfNl
Misc : misc methods
Play : play audio
Progress : progress counter
ResizingImageViewer : viewer that let
Related software (5)

JCaro - A version of Gomoku game running on mobile supporting J2ME

GUI builder tool for Java Swing applications. With jvider you can easily design graphical user interfaces for Java applets and applications. Standard Java Swing components are used ...

Ant Commander is a fully configurable file manager. Several file systems are suported: file, zip, ftp, webdav, etc. Several kinds of panels are available: directory table; director ...

Source code metrics measurement tool with persistence and historical comparisons. Use to measure code quantity and quality for C++, C, C#, VB.NET, Java, Delphi, Visual Basic (VB6), ...
DroidDiagram is an Android component that helps you create and present workflow, flowchart and process diagrams, database entity-relationship diagrams, organizational, hierarchy an ...