Ankhor flowsheet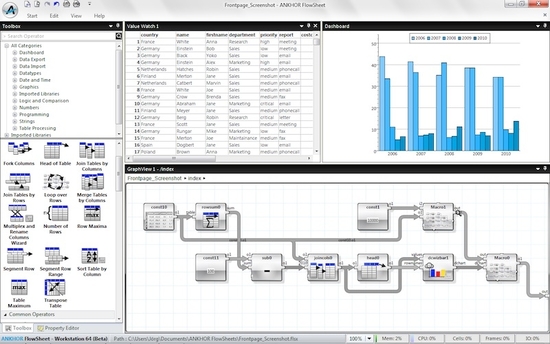 Download URL | Author URL | Software URL
ANKHOR FlowSheet - Data Workbench

Creatively Turn Your Data Into Information!

ANKHOR is a revolutionary platform for interactive exploration, evaluation and visualization of data. ANKHOR FlowSheet enables a flexible and easy way to analyze large amounts of data originating from different sources.

- Efficient graphical construction of analytic workflows, services and solutions

- In-Memory Operation for fastest possible processing

- Extensive libraries for quickly building profitable business applications

- Uniform design principle for:
Data Import
Filtering and Consolidation
Analytic Processing
Simulation and Prediction
Visualization
Report Generation
and many more...

ANKHOR FlowSheet is used in all company divisions. No matter if you require meaningful visualizations of correlations in your data in financial, sales, web analysis or engineering areas - ANKHOR will quickly lead you to the target.

The graphical construction method is based
Related software (5)

StatCalc simplifies common statistical calculations with 21 procedures. Easily compare summary statistics, develop confidence intervals, and verify hand calculations. Enter data t ...

AcaStat statistical software is an inexpensive and easy-to-use data analysis tool. Whether a teacher, student, manager, or researcher you will find AcaStat is a simple solution f ...
ANKHOR FlowSheet 64 is a revolutionary platform for in-memory processing of data from diverse sources and in variable data formats.

NET Reports 3.0 provides a client/server solution for generating powerful reports. It is developed for databases like MS. Sql, Oracle, Postgress, MySql, and other database servers. ...
WebTable extracts tables from a web page file. The resulting tables can be imported into a spreadsheet or database program. WebTable helps automate the transfer by translating a we ...